Grundoram Taurus used for pipe exchange under the highway
Ian Logan of Directional Drilling working in the 'Middle East' contacted TT-UK to seek advice and recommendation on Pipe Ramming. With project details and an overview of the proposed 30" pipe installation understood, TT-UK soon realised, with their years of experience and knowledge of the region, that this was a task for their 'powerful' Taurus (450mm) Grundoram machine.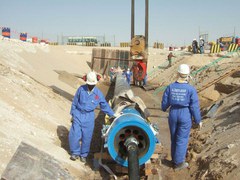 After further consultation, discussions and a subsequent order, the Grundoram equipment was quickly prepared and shipped to Damman followed by a TT-UK engineer to assist in the commissioning of the Taurus on site.
The total length of 30" (special coated) steel oil pipe line to be installed under the highway was 110m, ramming through sand.
The sacrificial (dummy) 30" steel casing pipe was to be rammed out, (previously installed by Augur Bore method), by welding new 12m individual steel pipe lengths attached to the 'existing' sacrificial pipe through a specially fabricated reinforced steel pipe-pup to allow attachment of the Grundoram 'Taurus' to prevent the new steel oil pipe line being damaged during the ramming process.
After each 12m (average) pipe length was installed the next length was lowered for welding followed by xray and epoxy coating.
Average pipe-ramming speeds were in excess of 24m per/hour excluding stoppages between welding & preparation. The client went on to say that he was delighted with the powerful performance of the Taurus and it would be used on many under road crossings to be carried out in the Middle East in the future.
Project details:
Project: To pipe-exchange an installed 30" sacrificial steel casing and to replace with a new steel 30" oil pipeline 110m under the main highway between Damman and Riyadh, Saudi Arabia

Client: Aramco Oil Company, Saudi Arabia 
Main Contractor: Faysal M. Qahtani Sons Co. for Trading & Contracting, Head Office: Al-Rakhah and Al-Khoba 
Trenchless Sub-Contractor: Ian Logan of Directional Drilling, offices in Bahrain and Al-Khobar in the KSA


Contact:
TT UK Ltd
Windsor Road
Bedford, MK42 9SU
United Kingdom

Tel: +44 (0)1234 342566 
Fax: +44 (0)1234 352184 
Email: info@tt-uk.com
Internet: www.tt-uk.com
Contact
TT UK Ltd.
42 9SU Bedford MK
Phone:
+44 1234.342.566
Fax:
+44 1234.352.184
E-Mail:
info@tt-uk.com
Internet:
To website