Grundopit - accuracy beyond doubt
TT-UK Ltd were recently approached to assist with a trenchless solution to install 110mm OD gravity lateral connections on a new sewage scheme. Site constraints included 1050mm diameter concrete rings and 600mm square manhole covers. The biscuits and lids were already installed. The proposed installation procedure was to open trench. Even though this was a rural location this caused some disruption and took approximately four days to complete an average 12m crossing. Due to the lateral having a gravity requirement the most crucial constraint was the accuracy of installation over the entire length.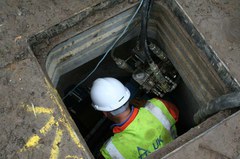 The solution
TT-UK have a range of steerable pit launch machines known as GRUNDOPIT. In the range is a machine called GRUNDOPIT Manhole version dedicated to this precise application.
Following initial trials in the site yard a live application was selected. This trial was completed to within the design accuracy despite being unable to prepare an adequate base to locate the GRUNDOPIT on.
As a result a further trial programme was arranged to test the application more fully to gain data on accuracy.
This programme started on 22nd August 2007 with the intension that bores would be completed ranging from 10m to 17m long.
Day 1
Involved induction, manufacturing and installing temporary benching to allow GRUNDOPIT to sit both stabily and at the correct invert depth inside the 1050mm diameter sewer chamber. A concrete core was drilled from within the chamber wall to enable the pilot bore and pullback of the lateral connection to be completed. The next stage was to lower the GRUNDOPIT base frame into position with the drill rig located soon after. All appropriate hydraulic and water pipes were then connected. A polymer was selected for the drilling fluid on this occasion to enable the ground to be stabilised within the bore and assist with removal of cuttings from the boring process.
Drilling started with the pilot bore head being set to the required gradient. Progressive 500mm drill rods were added and the gradient checked at 1m intervals to align with the previously surveyed terrain.
The pilot bore took 45mins to drill and was checked for accuracy prior to widening the bore with a 130mm Backreamer. Accuracy of pilot bore was within 10mm of design (50mm would have been acceptable). Backreaming started and the hole was widened and lateral pipe pulled back to the chamber end in less than 30 minutes.
GRUNDOPIT was then dismantled and prepared for the next days drilling.
Day 2 and 3
Due to the experience gained during the previous day the setup time was significantly reduced to just over 35minutes allowing for two bores to be completed on day 3. With careful future planning this could be increased to three, subject to say two property connections being drilled from the same launch chamber.
The accuracies of the bores were as day one being well within design gradient tolerances (3mm to 10mm).
Day 4
It was decided that day 4 would be the last day of the trial due in part to it being a Bank Holiday weekend. The trial had produced decisive data with no aborted bores or failures. One bore was installed on the morning of day 4 making a grand total of 5 installations in the 4 days. Taking into account that the Friday and the Tuesday were half days this made a total of 3 working days to install 5 number 10m to 13m under road crossings.
Conclusions
The expectations of accuracy, cost saving, minimized disruption and customer satisfaction of these trials were well proven based on 5 installed bores completed within 3 working days. Using traditional open cut methods this period could have been approximately 20 days.
On this basis alone the cost savings would be seriously advantageous. Estimates work out at approximately 1/6th of the open cut costs.
The boring process itself using GRUNDOPIT Manhole is a wholly trenchless system that will allow manhole to manhole installations if used in conjunction with short section pipes.
GRUNDOPIT Manhole is one of a group of manhole systems that TT-UK supply. These currently being the GRUNDOBURST 400S 40 Tonne QuickLock rod hydraulic pipe burster and the GRUNDOBORE 200 laser guided auger bore system that has recently been released. These products along with the industry recognised GRUNDOMAT impact hammer, GRUNDODRILL HDD, GRUNDOWINCH cable pulling winches and Pipe Coil Trailers are all part of the extensive range of products used within the Utilities and Construction Industry.
Further information:

TT UK Ltd
Windsor Road
Bedford, MK42 9SU
United Kingdom

Tel: +44 (0)1234 342566
Fax: +44 (0)1234 352184 
Email: info@tt-uk.com

Web: www.tt-uk.com 
Contact
TT UK Ltd.
42 9SU Bedford MK
Phone:
+44 1234.342.566
Fax:
+44 1234.352.184
E-Mail:
info@tt-uk.com
Internet:
To website