GRUNDODRILL 15N reliability by design and experience
GRUNDODRILL 15N, incorporates the powerful combination of the TT Group's latest technology and worldwide user experience. Precision engineered, GRUNDODRILL 15N 's rigid construction (weight 12500kg) easily handles its impressive 7000 Nm of torque and 167 Kn (16.7 tons) of thrust and pullback. During the drilling process the rig can be quickly configured using the touch screen control and provide all functions with the required power, to suit the toughest ground types, up to the maximum values shown.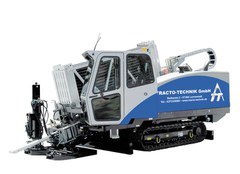 GRUNDODRILL's dynamic impact unit, provides an additional percussive impact value of 28tons at a frequency 0 - 1500 impacts per minute, keeping you drilling, when others failed. This unique patented TT feature provides fast, accurate drilling in the hardest of ground types, reducing job times and eliminating lost production due to stall out.
GRUNDODRILL 15N will automatically identify a full or empty bay in the drill rod box and advance accordingly. Both the rod loading and screwing/unscrewing of the drill string are fully automatic. The rod box has the capacity to store 70 x 3mtr long drill rods, an impressive working distance of 210mtrs. From a pilot bore of 115mm, pipes up to a diameter of 500mm can be installed, subject to ground conditions, 300mtr bore lengths are possible.
The new one piece, power unit hood offers easy and safe access to the power unit and all hydraulic components. GRUNDODRILL's manually controlled hydraulic override system is also housed here. Should the rigs 12v power supply be interrupted, full rig control is assured and work in progress can be completed without delay. With the rigs extremely slim profile, just 2mtrs wide and variable mast angle inclination, 0 - 30 degrees, drilling is possible in the tightest locations. The drill stem axis is positioned 900mm in from the side, to allow drilling work in close proximity to walls or hedgerows etc.
The drilling process is controlled via twin multifunction joysticks positioned to operate and control all functions whilst settings and real-time values are monitored on GRUNDODRILL's revolutionary space saving colour display function screen. Remote, real-time telemetry, diagnostic and service menu operator support is a standard feature
The GRUNDODRILL 15N work cab offers air conditioning, floor heater, two external illuminating lamps, yellow warning beacon, colour function display screen, drilling data recording, ergonomic operator seat, joystick control, radio/cd, opening window and a panoramic view of the whole drilling process.
A Perkins (106kw/142hp) power unit ensures maximum thrust, pull back and rotational values are met with ease, whilst powering the 320ltr/min on board high pressure Bentonite pump. Power to all individual functions is simply set and controlled via the function screen, ensuring power distribution where and when required.
Drill rod exchange is fully automatic as is the open top rod breakout system.  The fully automatic back reaming process, reduces operator fatigue and overall job times. The rubber coated steel tracked undercarriage, five position impact anchor unit, plus twin front and rear stabilisers ensure rig stability and minimum set up times. All of this significantly reduces the auxiliary (non drilling) function times.
The spectacular space saving MA07 mud system is designed for continuous drilling, without interruption. Its 2 x 4000ltr tanks provide this capability. One tank supplies Bentonite drilling fluid, to the drill rig at a rate of 550ltrs/min. Simultaneously the second tank of fluid is prepared by the 1500ltr/min rotary mixing pump, in an impressive three minutes. Both pumps are powered by a direct drive Hatz silent 23.5kw diesel power unit. This innovative power drive completely excludes the need for an additional hydraulic power system. It requires significantly less space and hydraulic pumps, hoses and valves are eliminated.
Attention to detailed design, combines to provide the very best durability, strongest performance and lowest cost of ownership in this drilling rig class.
In support of this extremely user friendly system, TT-UK is now offering an HDD "in-house" training and assessment course to City and Guilds standard.
The TT Group's new GRUNDODRILL 15N will be on display at the forthcoming SED Exhibition 13 – 15 May on stand 720 Avenue R.
Further information:TT UK Ltd
Windsor Road
Bedford, MK42 9SU,
United Kingdom

Tel: +44 (0)1234 342566 
Fax: +44 (0)1234 352184 
Email: info@tt-uk.com
Internet: www.tt-uk.com
Contact
TT UK Ltd.
42 9SU Bedford MK
Phone:
+44 1234.342.566
Fax:
+44 1234.352.184
E-Mail:
info@tt-uk.com
Internet:
To website