Grundoburst a stornaway success
A Grundoburst 400G supplied by TT-UK to leading Outer Hebrides contractor Duncan Mackay & Sons, has recently completed some demanding pipe bursting work in Dock Road and South Beach Street in Stornoway, Isle of Lewis, Scotland.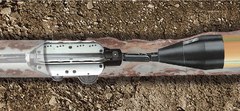 TT UK Training and Assessment Manager, Lloyd Richards, provided the theoretical and safe working insight of the bursting technique, followed by two days of practical on site tuition bursting 55m on the first day and on the next day 70m of 4" water main was replaced with 125mm PE pipe in mixed ground conditions comprising sandstone beach shingle; additionally, several previous repair collars on the old pipe needed to be overcome. The specialist pipe bursting roller blade tooling purchased with the Grundoburst 400G overcame these problems easily with no serious down time.
Several visitors from Scottish Water and Highlands & Islands Road & Street Council, as well as senior members of Duncan Mackay & Sons, were all present on the second day's bursting. The feedback from all present was tremendous because South Beach Street is the main street leading down to Stornoway Harbour and the disruption to replace this water main via "open cut" would have been unthinkable.
Hector Mackay and his working gang were delighted with the performance of their newly acquired Grundoburst 400G and have many more kilometres to burst in the coming months.
Contact:
TT UK LTD.
10 Windsor Road
Bedford MK 42 9SU
PH.: +44 (0)1234.342.566
FAX: +44 (0)1234.352.184
E-Mail: info@tt-uk.com
Internet: www.tt-uk.com

Contact
TT UK Ltd.
42 9SU Bedford MK
Phone:
+44 1234.342.566
Fax:
+44 1234.352.184
E-Mail:
info@tt-uk.com
Internet:
To website