Groundforce early design for Durham development
Early design input and a problem-solving attitude has won Groundforce Shorco a contract to provide specialist ground support for a micro-hydroelectric scheme in the heart of Durham.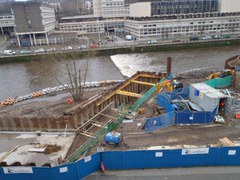 The contract is part of the multi-million pound Freeman's Reach development comprising 8,000 sq m of high quality eco-friendly offices, retail and leisure accommodation on the banks of the River Wear.
Energy for the new development will be provided by a micro-hydro plant on the upstream side of the site. Water channelled along an existing mill-leat will be dropped through four Archimedes screw-driven turbines which will run continuously and supply 75% of the energy required by the new development.
The reinforced concrete turbine chamber and spillway is housed in a 15m-deep excavation and is being constructed by specialist subcontractor Rainton Construction. Support for this deep excavation immediately adjacent to the river was a critical element of the engineering design and early discussions between Groundforce and main contractor Carillion meant that an outline design was approved at tender stage.
"We have a good ongoing relationship with Carillion" says Ajay Nagah, senior engineer (major projects) with Groundforce. "I was able to find out what their requirements were going to be and put together a design even before the main contract was awarded" he says.
The excavation is roughly L-shaped and in weak alluvial soil. The sheet-piled cofferdam is supported by Groundforce's Mega Brace frame with modular hydraulic props providing lateral support. In the shallower upstream section, this support is provided by two MP50 props (50Te capacity) spanning the 12m width of the excavation.
A HSK80 prop (80Te capacity) is installed at an oblique angle of about 60° where the excavation bends round towards the river. Here, it deepens and narrows. A further MP50, HSK80 and finally a 125 tonne capacity (MP125) props support this 7.8 m wide section.
To improve efficiency and reduce hire costs, Groundforce has designed the support system as three separate frames. "This means that Rainton can off-hire each section in sequence as they finish concreting the chamber" explains Groundforce regional sales engineer Ian Hind, who dealt with the practical and commercial aspects of the scheme added. The "just in time" delivery schedule of this project resulted in savings to the customer.
Work on the excavation began in October 2013 and the Groundforce equipment will all be off-hired by mid-January 2014. Rainton Construction have been impressed with the design and on-going customer support provided by Groundforce. "We're very pleased. It is a tricky job but Groundforce has been on hand throughout and everything has gone smoothly" says Rainton's site manager Nigel Nattress. "We are now putting forward some further jobs for Groundforce to consider" he adds.