Gotthard Base Tunnel: Second tunnel boring machine arrives in Faido
After driving some 13.5 km – three years and eight months after starting out from Bodio – the second tunnel boring machine reached the multifunction station at Faido. The breakthrough took place in the afternoon with a deviation of only a few centimetres.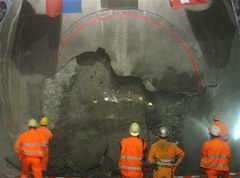 The second tunnel boring machine (TBM) started out in the west tunnel of the Gotthard Base Tunnel from Bodio in February 2003. A number of different difficult geological zones were overcome along the approximately 15 km route to the multifunction station at Faido. Technical modifications to the TBMs in both the east and west tunnels enabled the advance rate to be improved. In December 2005, with 38 metres, the TBM in the east tunnel attained the highest daily advance rate of any TBM in the Gotthard Base Tunnel to date.
This second breakthrough at Faido took place with the expected precision. With a tunnel diameter of approximately 10 metres, the deviation was only a few centimetres.
With the arrival of the second TBM in the Faido multifunction station today, mechanical driving in the Gotthard Base Tunnel is currently at a stop. Both of the machines in the south will be overhauled and transported through the Faido multifunction station. In about six months time, they will resume driving in the direction of Sedrun. As planned, the cutting heads of both machines will be enlarged by 60 cm, because in view of the greater depth of rock and the consequently higher rock pressure between Faido and Sedrun, the tunnels will be cut with a diameter of 9.40 metres.
The two tunnel boring machines between Amsteg and the boundary of the Sedrun section have also reached their destination six months and nine months ahead of schedule respectively. The TBMs will be dismantled underground and the individual parts transported out of the tunnel on the construction railway.
Driving on the other sections of the Gotthard Base Tunnel is also progressing well. The 100 km mark has already been passed. This means that of the total length of the Gotthard Base Tunnel of more than 153 km, more than two thirds have now been excavated.
Further information:
AlpTransit Gotthard AG
Head Office, Zentralstrasse 5
6003 Lucerne
Tel 041 226 06 06
Fax 041 226 06 00
E-Mail info@alptransit.ch
Web: www.alptransit.ch