Gotthard base tunnel: Mechanized tunnelling completed on the north side
Herrenknecht's tunnel boring machine "Gabi 2" reached its target in the western tube of the Gotthard Base Tunnel in Amsteg - six months ahead of schedule.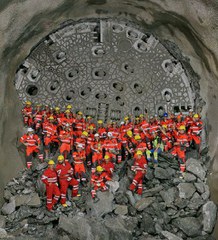 Breakthrough of the western tube of the Gotthard Base Tunnel between Erstfeld and Amsteg was achieved on Wednesday, September 16, 2009, shortly before 4 pm.
The Herrenknecht tunnel boring machine "Gabi 2", (Gripper TBM, Ø 9.58m) excavated a stretch of 7.2 kilometers in only 18 months and reached its target in Amsteg six months ahead of schedule – as did its sister machine "Gabi 1" on June 16, 2009 in the eastern tube. The axis at destination only deviated 4mm horizontally and 8mm vertically from the target at the breakthrough point.
The average daily tunnelling performance through hard rock and mountain overburdens of up to 1,000 meters was approx. 18 meters. The best daily performance reached by "Gabi 2" amounted to 56 meters of excavated and secured tunnel. This is deemed to be a world record for a tunnel boring machine of such dimensions. Excavation work in the world's longest railway tunnel has now been completed on the northern side of the Gotthard Range.
91 percent already excavated.
AlpTransit Gotthard AG is very satisfied with the performances achieved during the construction of the Gotthard Base Tunnel. This has been confirmed by Renzo Simoni, chairman of the company's management. Around 137km or almost 91 percent of the Gotthard tunnel system, with an overall length of 151.8km, have now been finished. The main breakthrough between Sedrun and Faido is due to take place at the end of 2010 / beginning of 2011. The commercial operation of scheduled train services is planned to start at the end of 2017.
Contact:
Herrenknecht AG
Schlehenweg 2
77963 Schwanau
PH: +49 (0)7824 302-540
Fax: +49 (0)7824 302-473
E-Mail: pr@herrenknecht.de
Internet: www.herrenknecht.com