Giant 'Concreteberg' Being Drilled Out of London Sewers
Thames Water has started drilling out the record-breaking 'concreteberg' lurking under the streets of central London. The mammoth is the largest lump of concrete the company has ever seen in the sewers, and is currently set hard underground at Goswell Road, Islington.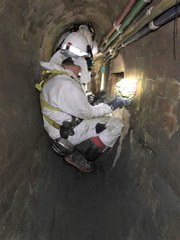 After weeks of planning, workers will brave the 4ft high, 2.5ft wide sewer and use a range of cutting tools, including pneumatic drills and high-pressure jets, to break up the industrial-sized mass before bringing it out chunk-by-chunk.
The cement is currently around 100 metres in length and weighs more than 105 tonnes so the painstaking work will last around three weeks. Tankers have also been in place to ensure the sewers keep flowing, and they will remain on site while the removal operation takes place to prevent pollution.
James O'Donoghue, Thames Water, said: "This is going to be an incredibly difficult and unpleasant task as it's one of the smallest sewers we work with but it is vital to prevent a full blockage which could lead to flooding at nearby properties and have a catastrophic effect on the environment. Our team is having to use pneumatic drills in a very enclosed space but everything is been done safely and in a way which keeps disruption to a minimum."
At any one time, there are four workers in the sewers chipping away at the concrete before manually putting the debris in buckets to be winched to the surface.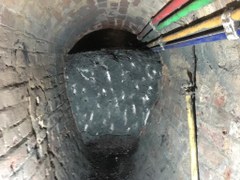 Thames Water has managed to avoid any road closures while the work is being carried out, although a pedestrian crossing on Goswell Road will be out of action. Investigations are still on-going as to how such a large amount of concrete was put into the sewer.
Paul Gunn, Thames Water, added: "Although we have come across concrete in the sewers before, we've never seen anything this big and it really highlights why everyone must take care with what gets put in the sewers. Whether they are concretebergs or fatbergs, the impact they have on the sewers can be catastrophic."
Thames Water deals with 75,000 blockages every year caused by unflushable items being put down the drain. Wet wipes, cooking oil and sanitary products are just some of the items removed from beneath the streets every day at an annual cost of £18 million. By 2025, the UK's largest water company has committed to reducing the number of blockages by 10,000 every year.