German ultrafiltration technology in Indian market
inge watertechnologies AG enters into sales and distribution partnership in India with CN Tech Engineers: India's 1.2 billion inhabitants make it the second most populous country in the world. Both its people and its fast-growing industrial sector have an urgent need for clean water. With dwindling resources, the country is now experiencing increasing demand for water reclamation and treatment technologies. The German company inge watertechnologies AG has successfully acquired a local partner in the promising Indian market for water supplies and water disposal in the form of the domestic company CN Tech Engineers.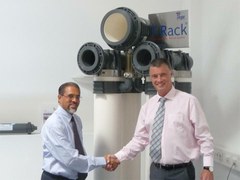 The globally renowned, Germany-based ultrafiltration technology leader inge watertechnologies AG is expanding its international presence in the Indian subcontinent through its sales and distribution partnership with CN Tech Engineers.
With impressive economic growth of between six and seven percent over recent years, India has demonstrated that it is a potent economic force. The Indian population is on the rise, as are its industries and agricultural sector. This has obviously prompted an increase in the demand for water, both in the countryside and in the cities – demand that the country's natural water resources struggle to meet. Satellite data from the period between 2002 and 2008 compiled by the US space agency NASA confirms that India's groundwater levels are sinking by four centimeters a year. As the clamor to tackle this critical issue grows, India is now seeing strong demand for technologies designed to purify water, in particular those aimed at treating waste water and sea water.
inge watertechnologies AG has already set up more than 500 ultrafiltration plants worldwide and is a sought-after project partner. Bruno Steis, CEO of inge watertechnologies AG, comments: "Our preliminary contact has indicated that there is certainly demand from India. We are already successfully established in similar markets such as China. The difference is that in China we have our own sales office, while in India we will be benefiting from a local partner in the form of CN Tech Engineers, a company that understands Indian customs and traditions and has the skill to quickly establish our products in the Indian market."
Shoeb Kurawadwala, Managing Director CN Tech Engineers, is delighted that the two companies will be working together: "We feel very confident that we can meet the requirements of our target groups with the durable and efficient products supplied by inge watertechnologies AG. We look forward to collaborating on a wide range of projects to help cater to the needs of the Indian water industry. Today, India has huge requirements for water recycling and purification of municipal and industrial water. The overall market is growing at 15-20 per cent every year and market research estimates the total water and wastewater treatment market size to be around $420 million."
With the aim of showcasing inge's products and technologies, CN Tech Engineers will be sharing a joint stand with inge watertechnologies AG at Aquatech India, which will be held in Mumbai from March 2 - 4, 2011.
Contact:
inge watertechnologies AG
Flurstraße 27
86926 Greifenberg
PH.: +49 8192 / 997-700
FAX: +49 8192 / 997-999
E-Mail: info@inge.ag
Internet: www.inge.ag