GeoKrete® Geopolymer Passes Critical Test for Products Used in Repair or Renovation of Sewer Infrastructure
Quadex, LLC recently announced that its GeoKrete Geopolymer meets the most demanding European test standard for corrosion resistance, WXX4, as defined by DIN 19573: Mortar for Construction and Rehabilitation of Drains and Sewers Outside Buildings.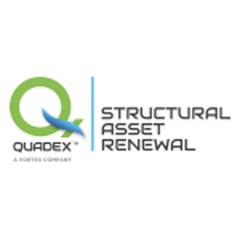 This test was created by the Hamburg Society for urban drainage to ensure mineral based repair and renovation products meet a minimum standard of resistance for biogenic acid corrosion. "Historically the assumption has been that all mineral based materials get more or less destroyed by sulfuric acid and are only permanently resistant to corrosion in a pH range of 3.5 or greater," stated Neil Wisener, President of Quadex LLC, and one of the Vortex Companies.
"Having GeoKrete meet all requirements of the DIN 19573 standard for WXX4, which is the highest acid resistance category, is not only great news for us, but great for the sewer rehabilitation industry as well."
In order to comply with DIN 19573, in all testing phases, GeoKrete possessed a relative residual compressive strength greater than 55% for pH0, and greater than 75% for pH1. "We're excited to have a geopolymer product that will serve the demanding sewer rehabilitation needs in Europe," added Mr. Wisener. "Effective sulfuric acid resistant solutions are hard to come by, and now we are in position to make GeoKrete available abroad."
"The results of this test allow us to continue our expansion into the European and International markets," stated Mike Vellano, CEO of the Vortex Companies. "We are anxious to meet with qualified contractors interested in adding GeoKrete to their product and solution offering."
GeoKrete will be on display at the Quadex booth at IFAT in May 2018. GeoKrete is used for the repair and rehabilitation of manholes, large diameter pipes and other sewer infrastructure requiring exceptional structural and corrosion protection.
About Quadex LLC
Since 1991, Quadex has developed, manufactured and delivered more than 75 million pounds of lining and structural restoration materials for water and wastewater infrastructure. All Quadex materials and systems are designed to restore deteriorated structures and prolong infrastructure service life for up to 50 or more years. Quadex is one of the Vortex Companies.
Contact
Quadex, LLC / The Vortex Companies
Kit Jones
9155 Wallisville Road
TX 77029 Houston
United States
Phone:
+1 713 750 9081
E-Mail:
kit@wheel-wright.com
Internet:
To website