Geoff Koch Named New VP of Product Development at McElroy
McElroy announces the appointment of Geoff Koch, P.E., as vice president of product development, who will help lead the continuing evolution and global impact of McElroy pipe fusion equipment.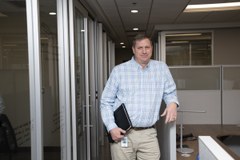 Koch joins McElroy after nearly 25 years with Ditch Witch, where he was vice president of product development. At McElroy, he will be responsible for design, prototype build and testing of all new equipment in addition to supporting McElroy's current and extensive line of pipe fusion products.
"Geoff has a track record of engagement and success across many diverse engineering areas and has repeatedly proven his ability to coach and lead teams to create innovative solutions that meet customer demands, including unique applications of specialty tools and machines," said McElroy CEO Chip McElroy.
Koch has an extensive background in sustaining engineering, clean sheet product development, systems engineering, electronic and software design, machine control and electrical system integration, and regulatory compliance. He has a bachelor's degree in mechanical engineering and a master's degree in engineering and technology management, both from Oklahoma State University.
"McElroy is a great Oklahoma company that makes superior products and has a market-leading position in the industries that it serves," he said. "I like to work at a company that leads the industry with technologies and product offerings and is committed to improving the world's infrastructure."
Throughout his career, Koch has fostered a culture of project delivery and collaboration and has demonstrated an ability to stimulate innovation among cross-functional partnerships and teams.
"Geoff's broad experience in all aspects of product development, product support, mechanical and electrical engineering along with deep experience in the integration of these two disciplines, are just a few of the many attributes that excite us to have him as the newest executive leader at McElroy," McElroy said.
About McElroy 
McElroy is the leading manufacturer and innovator in the science of joining thermoplastic pipe. The Tulsa, Okla.-based company offers the industry's most complete line of butt, saddle and socket fusion equipment for 1/2" CTS to 2000mm OD pipe as well as quality assurance accessories that increase productivity and efficiency on the jobsite.
Contact
McElroy Manufacturing, Inc.
833 North Fulton
Oklahoma 74115-6408 Tulsa
United States
Phone:
+1 918 836 8611
E-Mail:
fusion@mcelroy.com
Internet:
To website