For the benefit of the customers
Deutscher Verein des Gas und Wasserfaches (DVGW) and Sachverständigenbüro ENVIZERT GmbH honour Open Grid Europe once more for its high standards in the areas of quality, occupational health and safety, environmental management, and technical security management.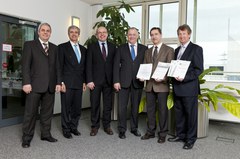 As one of the first European gas transmission companies, Open Grid Europe has been certified once more in four categories by DVGW and ENVIZERT: Quality management; technical security management; occupational health and safety; and environmental management. Thus the requirements of the DIN EN ISO 9001, DIN EN ISO 14001 and OHSAS 18001 standards and of the DVGW worksheet G 1000 are met.
Independent experts have intensely tested the Essen-based company. The experts scrutinized, inter alia, the company's proprietary management system for quality, workplace health and occupational safety, environment and technical safety management - from organization and processes through operational management and performance of the transports to fault management.
«Everything was turned upside down. Manuals and working procedures were reviewed, optimized and sometimes even rewritten», says Wolfgang Anthes, member of Open Grid Europe's management.
The experts from DVGW and ENVIZERT found nothing to complain about in their investigations. On the contrary: «Open Grid Europe has maintained its high standards and even surpassed them occasionally», emphasizes Heinz Esser, managing director of the DVGW group North Rhine-Westphalia. Together with Dr. Wilhelm Ross, managing director and environment expert at ENVIZERT, he recently presented the certificates to Open Grid Europe.
«Certifications reflect the quality of our company. That speaks for our motivated and competent team, which we can be proud of», emphasized Anthes.