Fluence Named 2018 Global Decentralized Water & Wastewater Treatment Company of the Year
Fluence Corporation Limited announced that it has been awarded Frost & Sullivan's 2018 Global Company of the Year Award for decentralized water and wastewater treatment.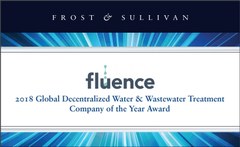 Fluence achieved significant growth in key markets in 2017, including Latin America's food and beverage industry and China's rural wastewater treatment market. The research report issued by Frost & Sullivan notes, "As a new company, Fluence's greatest quality is its diversification. It has several locations and products, and it serves a range of industries from oil & gas and power to food & beverage."
Additionally, Frost & Sullivan researchers note, "Fluence Corporation leverages innovative and smart technology solutions backed by decades of industrial know-how to excel in water and wastewater treatment solutions", reaffirming once again the strengths on which Fluence was formed, to serve its customers with solutions for the complete water cycle.
"It's an honor to be acknowledged for our early efforts in achieving what we set out to do, and it is only the beginning," said Henry Charrabé, Fluence's Managing Director and CEO. "This award is testimony to the hard-working members of the Fluence team around the world and we'll continue to build on these strengths to provide our partners and customers the best value, most innovative and reliable solutions in the decentralized market."
In summation, the research report concludes, "With its easy to use, sustainable, smart and cost-effective solutions as well as a remarkable year of growth, innovation, and leadership, Fluence Corporation earns Frost & Sullivan's 2018 Global Company of the Year Award in the decentralized water and wastewater treatment industry."
About Frost & Sullivan
Frost & Sullivan, the Growth Partnership Company, collaboratively works in collaboration with clients to leverage visionary innovation that addresses the global challenges and related growth opportunities that will make or break today's market participants. For more than 50 years, we have been developing growth strategies for the global 1000, emerging businesses, the public sector, and the investment community.
About Fluence Corporation
Fluence Corporation's vision is to become a leading global provider of fast-to-deploy decentralized and packaged water and wastewater treatment solutions, already an estimated A$17 billion market in 2016. Fluence has experience operating in over 70 countries worldwide and employs more than 300 highly trained water professionals around the globe. The Company provides local, sustainable treatment and reuse solutions while empowering businesses and communities worldwide to make the most of their water resources.
Contact
Fluence Corporation Limited
10 Bank Street
NY 10606 White Plains
United States
Phone:
+1 212.572.5700
E-Mail:
info@fluencecorp.com
Internet:
To website