FlowWorks Launches New Graphic Editing QA/QC Tools for Data Delivery to Water Utilities, Municipalities and Industrial Users
FlowWorks, Inc. announces important new data editing and analysis tools, now included free as part of the FlowWorks web platform. In the words of Timothy Hicks, president of FlowWorks, "The one-stop data management platform has arrived. A complete suite of online Graphic Editing QA/QC Tools, integrated with our recently-released FACE (FlowWorks Advanced Calculation Engine) for real-time data analysis, will make short work of data editing."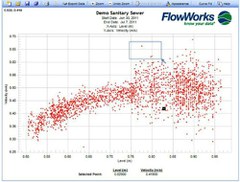 The new Graphic Editing QA/QC Tools, designed by power users from the FlowWorks community, combine the game-changing FACE with an intuitive interface for fast data editing. Analysts can now highlight data directly on time-series or scatter graphs, or in tables, and then flip to a simple editing screen to easily handle all common editing functions. Notes and a complete editing history are always kept, so others can follow along and reverse changes as needed.
FlowWorks is a secure web platform for gathering, analyzing and understanding all forms of environmental monitoring data. FlowWorks is hardware neutral, receiving data from all manufacturers' flow and level meters, rain gauges and data systems. It also collects data directly from SCADA systems, USGS and NOAA environmental stations and more. Users throughout North America rely upon FlowWorks to help manage water, sewer, rainfall and other remote data, perform CSO event analysis and alarming, and I&I and rainfall IDF analysis.
FACE is a set of real-time data calculation tools, allowing users to create new data channels from incoming data using equations, logical statements and advanced mathematical functions. FACE includes numerous sophisticated functions including time-weighted averaging, interpolation, temporal shifting, and time interval conversion.
With FACE and the new Graphic Editing QA/QC Tools, reviewing, editing and analyzing data across multiple hardware platforms has never been easier.
Contact
FlowWorks Inc.
327 Sixteenth Avenue
98122 Seattle, WA
United States
Phone:
(+1) 888 - 400 - 3288
E-Mail:
fwusa@flowworks.com
Internet:
To website