Flow Measurement using Cable Lengths of 800 Metres
Challenging application in dam wall requires unusual cable lengths.
3
and since 1882 ensures steady water supply for the "Canal des Vosges".
To dam up the lake a gravity dam with a height of 20 m and a length of more than 500 m was built of traditional brickwork 130 years ago. The dam structure however was calculated wrongly. Due to this, a flood in 1895 caused a breach in the dam resulting in a disaster with many deaths and a great deal of material damage.
An earthquake in February 2003 has slightly affected the dam again which becomes obvious in growing seepage water infiltration. Considering the effects of the past breach in the dam, the operators decided to analyse the consequences by strengthening the seepage water controls in order to forestall possible new threats.
Due to the very high humidity prevailing within the inspection shafts, the transmitters are to be installed in a switching cabinet out of the dam body from where they can be connected to a monitoring system via Internet.
Apart from providing comfortable representation, operation and analysis of readings, the newly developed NivuFlow 750 flow meter is moreover equipped with the communication functions required.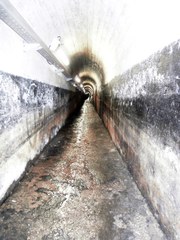 Previous tests using the accompanying flow velocity sensor based on the ultrasonic cross correlation method were extremely successful. The operators hence decided to initiate test measurements in order to gather experience during operation.
The cross correlation method uses discrete velocities prevailing within a cross-section at the measurement place for flow measurement. These discrete velocities can be used to determine the entire flow profile. The profile then is used to accurately compute the flow rate.
In standard applications the cable lengths between sensor and transmitter rarely exceed 100 m. In Bouzey reservoir however cable lengths of up to 800 m are required. Due to installation within the dam body it is not possible to use wireless data transmission systems.
Thanks to using this module it was possible to install the transmitter out of the dam body without any problems. Since initial start the system operates smoothly. Once fully equipped, it will provide a comfortable and quick early warning system to reliably detect the first effects of possible structural damage. This is why disasters such as the breach in the dam in 1895 are now a thing of the past.
(Author: Steffen Lucas, Product Manager)
Contact
NIVUS GmbH
General Manager Udo Steppe
Im Taele 2
75031 Eppingen
Germany
Phone:
+49 (0)7262 / 9191-0
Fax:
+49 (0)7262 / 9191-999
E-Mail:
info@nivus.com
Internet:
To website