Flood protection for 10,000 homes
£42 million a year plan over the next decade.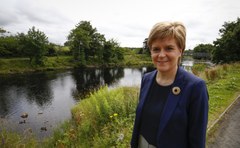 More than 10,000 families are to benefit from a ten year strategy to protect homes in many of Scotland's most flood-prone communities.The plan is the result of grant funding totalling £420 million and follows an agreement reached between the Scottish Government and COSLA. The cash will be used to deliver 40 new flood protection projects and support local flood risk management plans. More than 130 flood protection studies will be carried out to help find potential solutions for another 26,000 residential properties currently at risk.
The announcement came as the First Minister, Nicola Sturgeon, fulfilled her pledge to return to Newton Stewart following an earlier visit in the aftermath of flooding at Hogmanay. She said: "Earlier this year I saw first-hand the devastating effects of mother nature as storms battered our communities. "Last December is on record as the wettest and saw levels at rivers across Scotland overflow. When I visited Newton Stewart on New Year's Eve I met local butchers Kenny and Yolanda Owen at John D Owen & Son on what would have been their busiest day."Tragically all their stock was knee deep in water which not only has a massive impact on the business but also on the wider community who were relying on them.
As I walked down the high street what struck me was the resilience of this small community as they supported each other. "Seven months on and the community have rallied round and businesses are getting back on their feet and returning to normal. However, the implications of the storm will be felt for a while yet and we need to work together to minimise any potential future disruption. "This agreement will give local authorities the certainty they need to deliver the actions set out in their Local Flood Risk Management Plans to help protect individuals, business and communities from the danger of flooding."
Councillor Stephen Hagan, COSLA Spokesperson for Development, Economy and Sustainability said: "Protecting communities is at the heart of what local government does and is the reason why local government has committed this substantial resource for flood protection. Climate change, and the associated increase in flooding events, poses a significant national risk. This is why investment in flood protection schemes and associated infrastructure is critical to protecting vulnerable householders, businesses and communities, and why the strong working relationship between local and Scottish Government is so important."