First of Three Robbins EPBs launched at Mexican Mega Project
Emisor Oriente TBM fast-tracked for Critical Wastewater Tunnel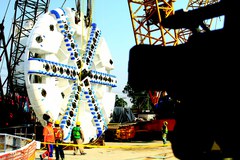 Mexico City's torrential rains and their ensuing floods have fast-tracked commissioning of one Robbins EPB at the country's most critical infrastructure project. The 8.93 m (29.3 ft) diameter machine was launched at Lot 1-a change from its originally designated tunnel at Lot 5.
Six lots, using three Robbins TBMs and three Herrenknecht TBMs, were planned for the massive 62 km (39 mi) long wastewater line, but problems with the first TBM on Lot 1 prompted the machine change. "A flood in shaft 0 delayed the Herrenknecht machine for six months. In order to compensate for time lost, we began boring with the Robbins machine at shaft 5 of Lot 1," said David Juarez, site manager for Lot 1 contractor Ingenieros Civiles Asociados (ICA).
The critically-designated Lot 1 site, located in the Ecatepec area outside of downtown Mexico City, has seen widespread flooding during each rainy season. The Gran Canal, an open sewer commissioned in 1910, is the area's main sewer line-a waterway that floods its banks regularly, causing road closures and significant health problems to those living nearby. Due to a loss of slope because of the city's sinking lake clays, the canal now has a positive vertical alignment below Mexico City--the portion of the canal outside the city has not been affected. Increased volumes of water have the potential to overload current pumping stations and send the untreated water back into the city.
"We are currently building a treatment plant and a pumping station at Shaft 5 of Lot 1, to pump the water diverted into Emisor Oriente back into the Gran Canal where the slope has not been affected," said José Miguel Guevara, General Supply Coordinator for Potable Water and Sanitation at the National Water Commission (CONAGUA). The pumping station will go into service as soon as tunneling is completed at Lot 1 and the finished section is sealed off from the rest of construction.
The Robbins TBM at Lot 1 has started excavation using umbilical cables connected to the surface and a sludge pump for muck removal. Once it has bored ahead 150 m, a Robbins continuous conveyor system and vertical belt will be installed for the remainder of the drive in mainly lake clays and sand.
Once the machine reaches the end of its 5 km (3 mi) drive to shaft 3A at Lot 1, it will be removed and readied for its original 8.6 km (5.3 mi) long bore at Lot 5. Two more Robbins EPBs are scheduled for launch later in 2011 on 9.2 km (5.7 mi) and 10.2 km (6.3 mi) bores at Lots 3 and 4, respectively.
When complete in 2014, the Emisor Oriente line will add about 150 cubic meters of water per second (5,300 ft3/sec) to the city's wastewater capacity. The project will operate in parallel with the city's other main wastewater line, Emisor Central. Since the central line was built in 1964, Mexico City's population has more than doubled, straining the system's capacity. CONAGUA hopes that Emisor Oriente will ease many of the city's wastewater problems when opened, but they admit there is more work to do: "We are working hard on pieces of the problem, but the problem is not solved yet," said Guevara.