First 6-in and 8-in crack-detection tools for pipelines
NDT Systems & Services AG, Stutensee, Germany has introduced a further addition to its highly-successful range of LineExplorer in-line inspection tools. The tools, incorporating a new generation of electronics, make use of the company's proven modular design, and are available in crack-, as well as metal-loss, inspection configurations.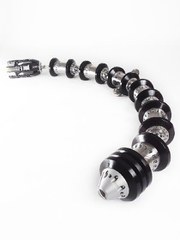 The new LineExplorer tools are the first ever that offer crack-inspection capabilities for 6-in and 8-in pipelines. The new electronics and sensor carrier design also leads to a marked increase in the circumferential resolution for metal-loss and corrosion inspection compared to other in-line inspection tools on the market that use ultrasound technology.
The new tools are now available, and will be used commercially in both configurations during the third and fourth quarters, 2005.
NDT Systems & Services AG is one of the leading providers of high-resolution in-line inspection tools. The company's product portfolio includes a full range of metal-loss and crack-inspection tools based on ultrasound technology.
Ultrasonic in-line inspection tools provide unparalleled accuracy and sensitivity. The design of the tools ensures that the full circumference of the pipe wall is inspected, and the wall thickness of a pipeline can be measured accurately. Internal, external, and mid-wall flaws and defects can be detected and sized quantitatively. NDT Systems & Services' LineExplorer is currently available in three different configurations:
wall-thickness configuration: used for metal-loss inspections, especially internal and external corrosion inspection. The tool can also detect and size mid-wall flaws such as laminations, and is available in sizes from 6 to 56in.
crack-detection configuration: the tool is used for crack detection and sizing in pipelines, detecting problems such as fatigue cracks, stress-corrosion cracking, etc.. A special crack configuration is available for the detection of circumferential cracks and crack-like flaws (such as girth weld inspection). It is available in sizes from 6 to 56in.
combined tool: allows crack- and metal-loss inspection in a single run. The first operational size is 40in. The configuration is available in sizes 20 to 56in.
NDT Systems & Services AG is a globally-operating company with its major focus on developing and providing advanced non-destructive-testing and inspection systems and services for ferrous and non-ferrous metals. The company can draw on the extensive experience, technical know-how, and creativity of its workforce to provide automated inspection systems and special inspection services. The three business units of the company - NDT Services, NDT Systems and NDT Engineering - serve the oil and gas-, steel-, railroad-, and automobile industries with their range of products, services and applied engineering resources.