Finally! New international standard for measuring mixer performance
Prospective customers considering purchase of submersible mixers have always had a problem comparing and measuring performance. Traditional industry-wide specifications based on power input per volume do not take other important factors into account, like propeller efficiency and hydraulic results.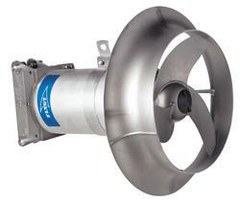 So independent experts from ITT Water & Wastewater joined hands with the industry at large to help devise a brand-new ISO international standard for mixer performance.
ISO 21630 means that customers "can now calculate and specify the thrust that provides required mixing, instead of specifying Watt per m³ which is more of an indicator about the size of the mixer," says Lars Uby. As Head of Applications, Support and Development of Treatment Applications, Lars wrote the first draft of the standard as a member of the independent ISO working group.
The group was chaired by his colleague Magnus Fahlgren; and the fruit of their labors was adoption of ISO 21630 last August. "This standard is an enormous advance for our customers," says Magnus. "The fact is, there hasn't been a standard at all. That's made it a bit difficult to compare mixers, to say the least.
"Using thrust as the main performance indicator means that customers now know which test standard we're using. They now have better opportunities to order correct mixing."
With more than 100,000 mixers installed in 140 countries, ITT Water & Wastewater has been a driving force behind the need for a performance standard. "A customer can now order appropriate mixing, and sub-suppliers have better opportunities to correctly interpret demands and meet them," says Lars.
Based in Switzerland, ISO is the International Organization for Standardization that develops voluntary technical standards, adding value to business operations. This work is carried out by experts from technical and business sectors that have asked for standards– and then put them to use. ISO works closely with the Hydraulics Institute in the US that also deals with standardization.
Further information:

ITT Global Headquarters

4 West Red Oak Lane
White Plains, NY 10604
Tel: +1 914 641 2000
Fax: +1 914 696 2950
Internet: www.itt.com