Finally, irrigation is more than a promise – INTEWA DRAINMAX-Tunnel system
Since its market launch in 2002, the DRAINMAX Tunnel system has become the undisputed leader in rainwater infiltration efficiency. With an optimized method of production and efficient stacking for transportation, these elements significantly reduce end-user costs for plastic tunnel systems. More than 20,000 m³ of DRAINMAX Tunnel have been installed around the world – and it still remains an undisputed leader.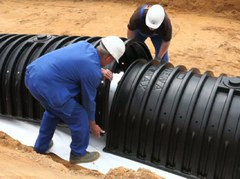 The DRAINMAX tunnel system consists of a large volume, light-weight plastic shells for storage and subsequent infiltration of rainwater. The half shells have an attenuation volume of 100% - three times more than a gravel ditch.
The rain water can easily infiltrate into the ground without any obstructions through the openings in the side walls. The tunnels can be installed up to a standard 1.5 m height above the ground with SLW 30 load (truck) and capable of producing decades of durable use.
Flushing
The keywords Camera surveillance and flushing have been established in the market. It is related to the conservation of infiltration capacity over the entire service life of the tunnel. Fine dirt contained in the run-off rainwater from sealed surfaces can settle down at the bottom of tunnel and thereby affect the infiltration performance.
Previous systems in the market, with rectangular geometry, allow camera surveillance of distribution channels within a tunnel. The camera is visible from the other side of the distribution channel as well as beyond the tunnel region, depending on the structure of the system. However, only the distribution channels can be flushed. There is no such "infiltration box" available in the market in which you can flush the base. Thus, the permeability of the base is critical for the performance of the tunnel. Regardless of the design of the water distribution – the dirt reaches the unreachable bottom section of the tunnel due to flushing.
Since the DRAINMAX - tunnel system made of plastic shells is completely hollow inside, it can be viewed from any angle and can also be flushed well.
Conclusion
The ex­pe­ri­ence of 8 years and 20,000 m³ of build­ing trust. The price-per­for­mance ratio is still un­beat­able. The flush­ing has once again in­creased the win­ning mar­gin over any other "In­fil­tra­tion box".
Contact
INTEWA GmbH
Jülicher Str. 336
52070 Aachen
Germany
Phone:
+49 (0) 241 / 96605-0
Fax:
+49 (0) 241 / 96605-10
E-Mail:
info@intewa.de
Internet:
To website