Fatberg fighting message hits home as blockages fall by a quarter
An awareness campaign encouraging east London residents to do their bit in Thames Water's war on fatbergs, has seen a 26 per cent reduction in sewer blockages.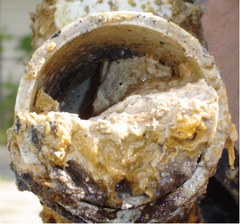 Almost 70 per cent of people in parts of Newham, Redbridge, Havering, Epping Forest and Barking and Dagenham say they've changed their behaviour when it comes to disposing of cooking fat and wipes following a campaign urging them to "Bin it – don't block it" last autumn. Thames Water targeted the boroughs after identifying them as sewer blockage hotspots.
During the campaign posters depicting a fatty roasting tin and a wet wipe, alongside poems about the impact blocked sewers have on private pipes and pockets were emblazoned across east London and featured in local newspapers. A more direct approach also saw matching leaflets and fat traps, to store used coking fat and oil, sent to 51,000 homes.
The campaign was followed up by a survey to measure its success which showed it to be Thames Water's most effective yet with 88% of people admitting it made them think about how they dispose of wipes and more than half saying they use their free fat trap rather than pouring leftover fat, oil and grease down the sink.
Head of wastewater networks at Thames Water Matt Rimmer said: "A big thank you to everyone who has taken our advice on board which is clearly making a difference. We need those people to keep up the good work and help us spread the 'Bin it – don't block it' message to others so we can reduce the number of sewer blockages even further."
Adverts on social media at the same time as the campaign were also a huge success and led to an 8,000% increase in the number of people visiting Thames Water's special 'Bin it' website featuring advice on disposing of fat and demonstration showing how wipes block pipes.
Matt added: "Eight times every hour one of our customers suffers a blockage caused by items being flushed away or put down the drain which shouldn't be so it's vital we get people to change their ways. It's simple - nothing other than waste water should go down the sink and only the three ps' – poo, pee and (toilet) paper can be flushed down the loo."