Fast and specific microbiological safety for drinking water
vermicon AG has developed the world's fastest identification and quantification method for E. coli and coliform bacteria.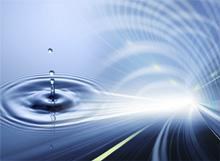 Microbiology specialist vermicon AG from Munich, Germany, developed an innovative detection system for efficient and cutting-edge water monitoring outlined for industrial clients. Within only 12 hours the most relevant drinking water bacteria Escherichia coli and coliform bacteria can be identified and absolutely quantified.
Drinking water has to be thoroughly tested due to legal regulations.. The main focus lies on the indicator bacteria Escherichia coli and other coliforms. Conventional methods take up to 48 hours for producing results. Not in time for quickly detecting contamination or quickly releasing locked down pipe lines. With vermicon's VIT gene probe technology analysis time is reduced drastically and safety is maximised instantly: Gene probes penetrate the bacteria and make them shine highly specifically. This not only allows for specific identification but also provides exact quantification of the microorganisms within the investigated sample.
For efficient drinking water monitoring vermicon developed the detection system ScanVIT-E.coli/Coliforms. "Today's detection methods for the relevant drinking water microorganisms are simply not fast and specific enough in order to meet the high standards of drinking water quality. In this regard, ScanVIT- E.coli/Coliforms literally allows for a quantum leap." concludes Dr. Jiri Snaidr, CEO of vermicon. ScanVIT-E.coli/Coliforms allows the reliable identification and absolute quantification of Escherichia coli and other coliform bacteria within only 12 hours – faster than any other detection method. Absolute quantification is reached by scanning each single bacterium for possible classification as targeted indicator bacteria.
Operators of public facilities, water suppliers, and industrial enterprises have a particular obligation to ensure their water's quality. The new vermicon test offers a cutting-edge detection system for efficient water monitoring and is made for the daily challenges of the drinking water industry.
vermicon AG
Barbara Roderus
Marketing & Communication
Emmy-Noether-Str. 2
D-80992 Munich
phone: +49 (0)89 158 82-0
fax: +49 (0)89 158 82-100
www.vermicon.com
press@vermicon.com
Contact
vermicon AG
Barbara Roderus
Emmy-Noether-Str. 2
D-80992 Munich
Phone:
+49 (0)89 158 82-0
E-Mail:
press@vermicon.com
Internet:
To website