Excellent Results Through Practical Guidance on Butt Fusion Jointing of Polyethylene Pressure Pipes
Continuing its support for best practice in the industry, the BPF Pipes Group has published a new guide for engineers and specifiers wishing to take advantage of the considerable benefits of butt fusion jointing of polyethylene pressure pipes. Drawing on 50 years of accumulated experience, this is presented as an easy-to-follow reference source to complement industry procedural specifications.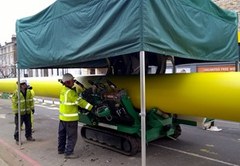 The butt fusion welding technique has been shown to consistently deliver quality pipe joints under a broad range of construction situations. Case studies are used to show that some of the many applications, environmental conditions and pipe sizes for which butt fusion is now routinely used with polyethylene pipes.
The BPF Pipes Group is a member of the European Plastic Pipes and Fittings Association (TEPPFA) and has customised the guidance prepared by TEPPFA to UK applications, whilst benefitting from the wide range of projects successfully delivered by manufacturers of polyethylene pipes across the UK and Europe.
Contact
British Plastics Federation
6 Bath Place
EC2A 3JE Rivington Street
United Kingdom
Phone:
+44 20 74575000
Fax:
+44 20 7457 5020
E-Mail:
reception@bpf.co.uk
Internet:
To website