EU Skills Recognition of Learning programme accredited to TT-UK
Energy & Utility Skills (EU Skills) Recognition of Learning programme has been accredited to TT-UK Ltd. Family-owned business TT-UK, is the first company to receive the Recognition of Learning programme, as a service provider for Suction Excavator training.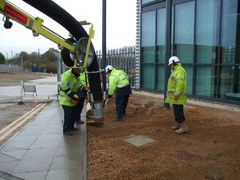 The Recognition of Learning programme has been designed to improve the quality of training and to provide employers with information on where they can obtain accredited courses that meet their individual needs.
Tricia Bowes, Training Co-ordinator at TT-UK said, "With the help of EU Skills, we have developed a bespoke training course. The Recognition of Learning programme ensures that our customers are receiving a comprehensive accredited training course. We are now striving towards all of our training programmes to be recognised and endorsed by EU Skills ie Grundomat, Grundoburst, Grundodrill, and Grundowinch."
Recognition of Learning is available to all providers active in the EU Skills footprint, including employers' own in-house training and independent commercial businesses. It is intended to add value to both employers and training providers who are Members of EU Skills, by providing them with a quality mark for use within the energy and utility sector.
The Recognition of Learning programme is the ideal route which leads to registration on the Energy & Utility Skills Register (EUSR), an independent register which confirms the skills and abilities of individuals when moving from company to company and industry to industry.
TT UK Ltd.
10 Windsor Road
Bedford MK 42 9SU
Tel.: +44 1234.342.566
Fax: +44 1234.352.184
E-Mail: info@tt-uk.com
Internet: http://www.tt-uk.com
Contact
TT UK LTD
42 9SU Bedford MK
Phone:
(+44) 1234 342566
Fax:
(+44) 1234 352184
E-Mail:
info@tt-uk.com
Internet:
To website