Establishment of Asian Sales Company for Pipeline Rehabilitation Business: Establishment of Materials and Machinery Sales Base in Singapore
The Urban Infrastructure & Environmental Products Company (President: Yoshiyuki Takitani) of SEKISUI CHEMICAL CO., LTD. (President: Naotake Okubo: hereinafter SEKISUI CHEMICAL) has established SEKISUI CPT ASIA PTE. LTD. (Hereinafter SCPTA), a sales company of pipeline rehabilitation business, in Singapore where increased demand is expected in the future. SCPTA is a subsidiary of SEKISUI CPT G.m.b.H. (Hereinafter SCPT*). SCPTA will be engaged in sales of pipeline rehabilitation materials and machinery in the Asian region as well as supervision and technical support of construction partners. SEKISUI CHEMICAL plans to accelerate business expansion to achieve the top position in global pipeline rehabilitation business. * SCPT: Subsidiary of SEKISUI CHEMICAL (75% holdings) with its headquarters in Germany.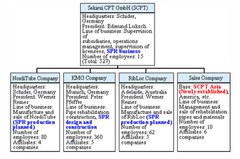 1. Background
Under its medium-term management vision "GS21-Go! Frontier" launched in the 2006 fiscal year, SEKISUI CHEMICAL considers the creation of growth business and new business that can realize high levels of profitability to be key topics as it aims to transform itself into a "prominent" and "highly-profitable" enterprise. As part of these efforts, the Urban Infrastructure & Environmental Products Company is making progress in expanding its lines of business based on "water-environment solutions business" and "overseas sales." As a part of this process, in the field of pipe-rehabilitation, which is experiencing a rapid growth in demand, the company is expanding its business on a global basis across the value chain from pipe inspection through construction, built on foundation of the "SPR method," which makes it possible to rehabilitate deteriorated pipes without the need for ground excavation.
SEKEISUI CHEMICAL established the foundation of its pipeline rehabilitation business through the acquisition of Heitkamp, Inc., a pipeline rehabilitation construction company in the United States in December 2007 and Chevalier Pipe Technologies G.m.b.H. (Predecessor of SCPT), a pipeline rehabilitation company in Europe and Australia in July 2008. Business expansion is currently ongoing with 30 bases across the globe.
2. Aims of Establishment of the New Company
While until now, SEKISUI CHEMICAL has advanced its pipeline rehabilitation business in Asia through tie-ups with local construction partners, the outlook for rapid growth in the demand for pipeline rehabilitation in the Asian region centered on Singapore has led to the establishment of the new company as a base for sales of materials and machinery.
The SPR method that already holds the top construction track record in Singapore (FY2007) has won high acclaim from the Public Utilities Board (PUB), a public utilities agency that controls water and sewage services, and this has led to the decision that there is a potential for effective sales activities in future in the Asian region.
PUB has earmarked a budget of approximately 70 billion yen for water and sewage services rehabilitation business for six years from the year 2008.
3. Overview of the New Company
1) Name : SEKISUI CPT ASIA PTE. LTD.
2) Address : 7500 Beach Road, The Plaza #16-302, Singapore
3) Date of establishment : November 14, 2008
4) Capital : 400 thousand Singapore dollars (Approximately 25 million yen) - Ownership: SCPT (100%) *1 Singapore dollar = 63 yen
5) Line of business : (1) Sale of materials and machinery for pipeline rehabilitation in the Asian region
(2) Supervision and technical support of construction partners * Number of licensees (SPR: 3 companies, RibLoc/NordiTube: 15 companies)
6) Representative : Werner Reiner 7) Number of employees : 8 What's
8) Launch of operations : December 1, 2008
9) Sales goal : 1.2 billion yen for FY2009
Contact:
SEKISUI CHEMICAL CO., LTD.
Internet: www.sekisuichemical.com