Envirosight Releases New Health and Hygiene Poster for Sewer Workers
This free poster illustrates how to protect yourself from wastewater biohazards.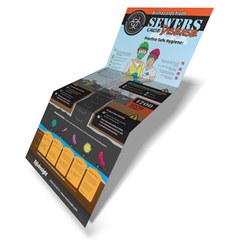 A new, free poster from Envirosight illustrates how sewer workers can protect themselves from workplace biohazards using personal protective equipment (PPE), developing proper hygiene habits and clean-up practices, and obtaining recommended vaccinations. Anyone working in or around sewage is at an increased risk of disease and infection. Accordingly, sewer workers must take extra precautions to protect themselves and their families.
"Sewers are full of disease-causing pathogens," says Nicole Lygo, Envirosight's Marketing Coordinator.
"Limiting your exposure to them can reduce your risk of disease and infection. Even so, protective equipment is only as good at the procedure you follow. The best boots in the world won't do any good if you take them, and all the bacteria they harbor, into your office or house. We created this poster to serve as a constant reminder for sewer workers about the importance of workplace hygiene."
Request a free copy of the poster at: http://inbound.envirosight.com/sewer-health-hygiene-poster