Envirosight Offers NEW Confined Space Safety Poster for Sewer Inspection Crews
Free resource provides information on safe confined space entry.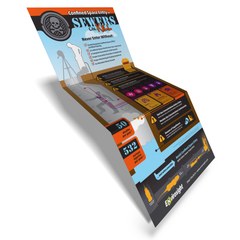 A new, FREE Confined Space Safety Poster from Envirosight provides information on safety measures and equipment every operator should take when entering confined spaces. According to the U.S. Bureau of Labor Statistics, an average of 50 workers die every year from confined space hazards, while hundreds more are seriously injured.
Following established procedure is key to keeping workers safe. This poster is designed to reinforce awareness among sewer workers who routinely encounter confined spaces.
"Confined space deaths are tragic and preventable, and we all need a constant reminder of the inherent risks, as well as the proper protocols to follow," says Richard Lindner, Envirosight's President. "We created this poster for that reason."
This poster was published as a part of Envirosight's commitment to create and share reference material that benefits industry professionals. Request a free copy at http://inbound.envirosight.com/confined-space-safety-poster
Contact
Envirosight LLC
Venay Sehgal Bhatia
111 Canfield Ave., Unit B3
NJ 07869 Randolph
United States
Phone:
+1 503.936.9402
Fax:
+1 (973) 252-1176
E-Mail:
vbhatia@envirosight.com
Internet:
To website