ENPAR and World Class Water Company, Miahona, Sign Memorandum of Understanding to Develop Water Treatment Markets in the Middle East
Dr. Gene Shelp, President and CEO of ENPAR Technologies Inc. ("ENPAR" or "the Company"), is very pleased to announce that ENPAR has entered into a Memorandum of Understanding (MOU) with Miahona (www.miahona.com) of the Kingdom of Saudi Arabia to develop markets for ENPAR's array of state-of-the-art water treatment technologies in Saudi Arabia and other regions of the Middle East .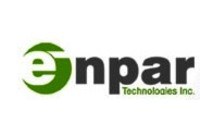 A fully-owned subsidiary of the Arabian Company for Water and Power Development Ltd. (ACWA Holding –
www.acwaholding.com
), Miahona is a world-class company which provides management services for urban utilities (management and concession) for water supply, waste water collection and treatment facilities. The Company develops, owns and operates waste water treatment plants based on EPCO/BOO/BOOT/BOT models. As a leading integrated company, Miahona also offers urban utilities engineering consultation in water and wastewater disciplines in the Kingdom of Saudi Arabia and the Middle East & North Africa region.
Miahona specializes in the design, build and operation of environmentally responsible water treatment and reuse projects. Acknowledged as a leader in the application of scientific and technical principles and accumulated local know-how, Miahona's scope of business includes contract and concession management in the fields of water supply, the development and treatment of groundwater resources and treatment of waste water.
It has been reported that the Middle East and North Africa region supports 5 percent of the world's population with less than 1 percent of the global, available water supply. The value of the reuse market in Saudi Arabia is estimated at USD $3.4 billion for the period 2009 - 2016, making it the third largest water reuse market in the world. Saudi Arabia's advanced treated water reuse capacity is growing at an annual rate exceeding 30 percent and is expected to reach 2.2 million cubic meters per day by 2016 from its reported, current level of 260,000 cubic meters per day.
Designed to achieve high rates of contaminant removal and water recovery, the ENPAR array of innovative water treatment technologies represent immediate, sustainable solutions to assist Miahona to address the Kingdom's environmentally conscious municipal and industrial wastewater discharge regulations.
"The Kingdom of Saudi Arabia has one of the fastest growing economies in the Middle East, and the wastewater and water reuse issues need to be addressed now in order to sustain this rapid growth over the next five years," said Professor Walid A. Abderrahman, Chairman of Miahona. "We are pleased to be working with ENPAR, a leader in electrochemical water treatment technologies. We anticipate that ENPAR will deliver innovative and advanced water solutions for the Kingdom, as part of our
commitment to continue investing in projects focused on increasing the supply of usable water for the country."
Miahona will identify specific applications and facility locations for ENPAR systems. The anticipated implementation of a formal agreement is expected to provide impetus to secure orders for ENPAR water treatment technologies.
Dr. Shelp commented, "This MOU represents a significant business opportunity for ENPAR to work closely with a world class organization which is acknowledged for its business achievements in the water and energy sectors in the Kingdom of Saudi Arabia and other regions of the Middle East. Management expects that Miahona will identify numerous prospects which will result in the near-term deployment of our products within Miahona's sphere of operation. We believe that our products are well suited to the water treatment markets served by Miahona and anticipate that successful execution of this agreement will result in a formal, long-term business relationship within the next 12 to 24 months. This accord aligns with the ENPAR growth strategy to achieve market entrance and acceptance through business relationships with well-established, highly respected firms serving an existing, broad client base and with access to distribution channels."
Contact
ENPAR Technologies Inc.
Gene S. Shelp
70 Southgate Drive, Unit 4
N1G 4P5 Guelph, ON
Canada
Phone:
(+1) 519-836-6155
Fax:
(+1) 519-836-5683
E-Mail:
gshelp@enpar-tech.com
Internet:
To website