Electro Scan Inc. Named to Fast Company's Annual List of The World's Most Innovative Companies for 2019
Electro Scan Inc. has been named to Fast Company's prestigious annual list of the World's 50 Most Innovative Companies for 2019. The list honors companies making the most significant impact to industry and identifies those demonstrating how to thrive and grow in today's volatile business world.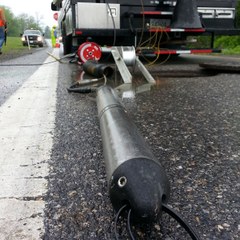 The World's Most Innovative Companies list is Fast Company's signature franchise and its most highly anticipated annual editorial effort. The list provides both a snapshot and a road map for the future of innovation across the most dynamic sectors of today's economy.
"We are honored to be amongst this distinguished group of pioneering companies," stated Chuck Hansen, Chairman, Electro Scan Inc.
The company's machine-intelligent hardware & software-as-a-service (SaaS) platform replaces less accurate and subjective legacy technologies, such as Closed-Circuit Television (CCTV) cameras and acoustic sensors, to efficiently & effectively prioritize capital investments and to verify strict quality assurance standards in accordance with contract requirements.
This year, Fast Company's editors sought groundbreaking businesses across 35 industries, with Electro Scan Inc. part of its Urban Development/Real Estate industry category. A key advantage is its repeatability of test results across all pipe materials, multiple hardware and software platforms, users, and equipment configurations.
"Given the trillion-dollar price tag for fixing worldwide sewer & water networks, utilities can't afford to use inadequate legacy inspection methods to prioritize repairs or approve new installations," stated Hansen.
"Successful pipeline condition assessment doesn't come from what you occasionally find," stated Carissa Boudwin, Electro Scan's Vice President, Marketing. "It comes from what you consistently find & repeatedly measure in Gallons per Minute or Liters per Second."
The Fast Company announcement coincided with the Trenchless Middle East conference in Dubai, UAE, and the Water & Wastewater Equipment, Treatment & Transport Show in Indianapolis, IN.
ABOUT ELECTRO SCAN INC.
Founded in 2011 with corporate headquarters in Sacramento, CA, the company designs, develops, markets, and supports technology services for pipeline condition assessment, environmental compliance monitoring, and independent rehabilitation effectiveness. The company sells and licenses equipment to local governments and utilities to conduct their own pipeline testing and offers a Technology-as-a-Service solution in partnership with authorized contractors.
Contact
Electro Scan, Inc.
Carissa Boudwin
1745 Markston Road
95825-4026 Sacramento, California
United States
Phone:
+1 916 779 0660
E-Mail:
carissa@electroscan.com
Internet:
To website