Electro Scan Inc. Announces Game Changing Water Leak Detection Technology
New Patent Pending Multi-Sensor Probe Represents First Device to Accurately Find and Measure Water Losses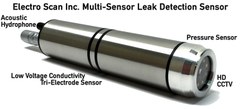 Electro Scan Inc., a global leader in pipe condition assessment announced its new patent pending multi-sensor probe that accurately finds and measures water losses.
The Company's game changing leak detection technology (video on YouTube) is featured as part of a 90-day / 16-city international roadshow that began in September.
Water utilities commonly lose 20-30% of their production before delivery to a customer's meter, with fixing the wrong pipe often costing 10 times more than fixing the right pipe.
Since legacy equipment, like acoustic sensors, data loggers, electro-magnetic sensors, and visual inspections are not able to reliably find water leaks, next generation technologies have been needed to accurately assess water mains and certify their repair.
"We are delighted to unveil our new technology," said Chuck Hansen, Chairman, Electro Scan Inc. and former Chairman, Hansen Information Technologies, sold to Infor Global in 2007.
Explains Hansen, "By combining the latest technologies into our 4-in-1 Multi-Sensor Probe (pdf-document), offered as an exclusive service, utilities can quantify each leak's size, location, and estimated GPM [LPS], in minutes."
Electro Scan's technology assesses both pressurized and gravity water mains while pipes remain in service.
The Company's patent pending multi-sensor probe, includes:
1. Low Voltage Conductivity Sensor – Measures individual leaks and total defect flows utilizing a low voltage conductivity tri-electrode array to find leaking cracks, pinholes, defective joints, bad service connections, and other openings to ground.
2. High Definition Camera – Assists operators in navigating through water mains and documents leak locations found by low voltage conductivity sensor using a standard 1920x1080 high definition camera recording at 30 frames per second (fps).
3. Pressure Sensor – Provides location-specific water pressure to assist in calculating defect flow rates.
4. Acoustic Sensor – Records sound vibrations and provides benchmark of legacy results that can be readily compared to low voltage conductivity results.
"The Electro Scan 4-in-1 water probe was designed to find leaks not previously found by legacy methods," states Mark Grabowski, General Manager, Electro Scan. "If a pipe leaks electricity, it leaks water. Now we can provide a reliable, repeatable, and measurable solution for the water industry, based on our proven technology already being deployed in the wastewater collection industry."
Pipe materials best suited for low voltage conductivity surveys, include: Asbestos Cement, Cement-Mortar Lined and Coated Steel Pipe, Cured In-Place Pipe, Fiberglass Reinforced Pipe, High-Density Polyethylene Pipe, Prestressed Concrete Cylinder Pipe, Polyethylene Pipe, Polyvinyl Chloride, and Reinforced Concrete Pipe.
Using a neutrally buoyant fiber optic cable, the Company can evaluate up to 2,000ft (610m) of water main from a single point of entry, accessed through fire hydrants, air valves, flow meters, gate valves, and pressure fittings.
"In the past, acoustic sensors may have suggested locations of general anomalies," said Carissa Boudwin, Director of Marketing, Electro Scan.
Continues Boudwin, "But, false-positive readings, poor data repeatability, reliance on third party data interpretation, ambient noise from road traffic, water table heights, pipe diameter, and the inability to assess PVC, PE, and HDPE pipes, has limited its usefulness to find non-revenue water losses and optimize CAPEX plans."
Electro Scan's 16-city roadshow, includes:
| | |
| --- | --- |
| Sept 9-10 | IKT Praxistage "Neubau, Sanierung und Reparatur" Gelsenkirchen, Germany |
| Sept 13-15 | SAP for Utilities, North American Conference, Huntington Beach, CA |
| Sept 14 | Water JAM, Virginia Beach, VA |
| Sept 22-23 | Water Innovation Summit, Berkeley, CA |
| Sept 23-25 | Iowa League of Cities, Cedar Rapids, IA |
| Sept 26-30 | WEFTEC, McCormick Place, Booth #2804, Chicago, IL |
| Oct 11-14 | AMWA Executive Management Conference, Savannah, GA |
| Oct 13-16 | AWWA Water Infrastructure Conference, Bethesda, MD |
| Oct 20 | UKSTT Road Show, Bristol, UK |
| Oct 22 | Rocky Mountain Water Environment Association, Vail, CO |
| Oct 26-29 | AWWA Calif-Nevada Annual Conference, Las Vegas, NV |
| Nov 6 | American Leak Detection Annual Meeting, Chicago, IL |
| Nov 11-13 | California Water Association, Monterey, CA |
| Nov 17-19 | Trenchless Technology Roadshow, Richmond, BC |
| Dec 4 | Hawaii Water Environment Association, Honolulu, HI |
| Dec 8-9 | North American Water Loss Conference, Atlanta, GA |
Electro Scan has been named Best CleanTech Company (The New Economy), Best Innovative Technology (Water Environment Federation), Innovative Product Award (North American Society for Trenchless Technology) and Best Project (UK Society of Trenchless Technology).
While equipment is not available for purchase, the new technology is available as a professional service offered directly by the Company.
Contact
Electro Scan, Inc.
1745 Markston Road
95825-4026 Sacramento, California
United States
Phone:
+1 916-779-0660
E-Mail:
info@electroscan.com
Internet:
To website