Electro Scan Certified to Test Water Tightness of Trenchless Pipe Repairs and Renewals in Japan
Technical Certification Represents a New Quality Assurance Standard to Assess Both Existing and Rehabilitated Sewer Pipes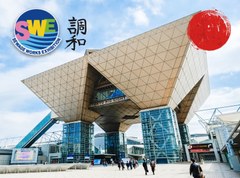 Electro Scan Inc. announced today that its Japanese and U.S. patented technology has been awarded JASCOMA Certification No. 12, Water Tightness Investigation Technology, also known as "Electroscan."
The designation was granted by the Japan Sewer Collection System Maintenance Association (JASCOMA) for testing and certifying both existing and newly rehabilitated sewer pipes. Prefectures, local governments, consulting engineers, and trenchless manufacturers are now able to conduct independent certification of water tightness of sewer repairs, rehabilitation, and renewals, to enhance environmental sustainability, maintain asset stewardship, and promote quality assurance of public works.
To celebrate the distinction, Electro Scan's Founder and Chief Executive, Chuck Hansen, attended the 30th Anniversary Sewage Works Exposition, Tokyo International Exhibition Center (Tokyo Big Sight), 1-4 August 2017. "We are honored to have our proprietary technology recognized by such a prestigious organization as JASCOMA and to help guide the selection and acceptance of future trenchless renewal programs in Japan," stated Hansen. "Some things do not get better with age," stated Hansen. "And underground sewer pipes are one of them".
Japan's aging sewer pipes have been in the spotlight as Prime Minister Shinzo Abe has pushed to revitalize the world's third-largest economy by overhauling the country's infrastructure. Last year, pipe rehabilitation in Japan exceeded 500 km, with cumulative sewer pipe renewal projects reaching 8,000 km.
Yet, prior to JASCOMA Certificate No. 12 no generally accepted standard was in place to ensure pipe quality assurance once a sewer was installed or relined and after service laterals were reconnected. JASCOMA Certificate No. 12 represents a new support technology that automatically locates and measures leaks, allowing machine-intelligent hardware and software to determine an estimated leakage rate - in either liters per second or gallons per minute - for each defect and for the entire pipe. Defect flow ratings provided by Certificate No. 12 allow sewer repairs to be easily ranked and prioritized by severity, without requiring third-party data interpretation.
"New Standards for Testing and Certifying Cured-In-Place Pipe" (ENGLISH VERSION)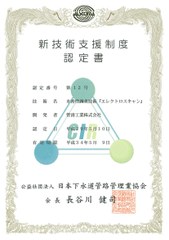 By 2035, about 28 percent of all sewer pipes in Japan - about 130,000 km - will reach the end of their 50-year life span. Replacement costs for pipes, pumps and other equipment are seen ballooning 66 percent to ¥1 trillion ($9.1 billion) over the next 20 years.
Since 2014, US-based Electro Scan Inc. conducted knowledge & technology transfer with Japan-based trading company KANTOOL CO., LTD. to bring its new pipe testing and condition assessment solutions to Japan. Ken Kerri, Ph.D., P.E., Chief Project Consultant, Office of Water Programs, California State University, Sacramento, California, USA, was instrumental in communicating the advantages of the new technology in meetings between Electro Scan and KANTOOL.
After equipment installation and training, Electro Scan Inc. also deployed a Japanese version of its award-winning Critical Sewers® Software as a Service (SaaS) cloud application. Representing a purpose-built, globally deployed Amazon Web Services solution, Critical Sewers® provides a comprehensive audit trail for prefectures, local governments, trenchless contractors, manufacturers, and international engineering firms to manage high-frequency pipe renewal testing, data transport, and reporting. Data is automatically aggregated to the asset level to ensure end-to-end (i.e. installation-to-replacement) pipe renewal compliance tracking.
More importantly, test results can be delivered to trenchless contractors and engineers, within minutes of completing each test, so corrective repairs or replacements can be made prior to local government acceptance. Government tenders for trenchless rehabilitation are recommended to reference JASCOMA's Certificate No. 12 for all future projects so contractors and engineers can independently determine the water tightness of sewer pipe renewals, repairs and rehabilitation.
Contact
Electro Scan Inc.
1745 Markston Road
California 95825-4026 Sacramento
United States
Phone:
+1 916 779 0660
E-Mail:
info@electroscan.com
Internet:
To website