egeplast pipe heater system: tempering tool makes pipe installation even easier
egeplast supplies its pipe heater system to assure easier welding of pipe coils, particularly in cooler periods. This tempering tool permits stress free welding of pipe ends for pipe coils and welding on of tapping type valves and fittings. It thus makes already trouble free installation of PE piping even easier.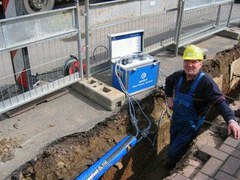 The great advantages of PE piping include its flexibility and the facility for delivery of extremely large lengths to sites in the form of coils. Stress free welding becomes difficult to achieve if the pipes have been deformed by winding them into a coil, however. The egeplast pipe heater with its uniform mode of heating eliminates pipe stresses. The particular benefits of this system include not only a significant reduction of the danger of accidents caused by whipping pipe ends but also simplified working properties and improved weld quality.
"This tool is extremely easy to use", states Dipl. Ing. Holger Hesse from egeplast's Technical Service team. "The heating sleeve is wrapped around the section of pipe and secured with a Velcro closure. A microprocessor controlled base unit automatically detects the dimension of the pipe and controls and monitors optimum tempering of the pipe ends, also automatically." The result is a significant reduction in curvature and ovality. The direct contact between the heating sleeve and the pipe achieves significantly faster but gentler tempering than systems employing hot air blowers, for example. Heat damage to the piping material, as is possible if naked flames are used, is therefore excluded. Customary on site solutions such as clamping tapes, jacks and excavator scoops are thus now a thing of the past. The system is available for outer diameters of 32 mm to 180 mm.
The egeplast pipe heater system has been developed in cooperation between egeplast and a heating sleeve manufacturer who also supplies Formula 1 racing. egeplast is Germany's largest independent manufacturer of high pressure PE piping. The principal focus in this context is the development and production of laminated piping material for trenchless installation and refurbishing. The egeplast product range covers the entire underground piping and cable infrastructure: Water, effluent, gas and data. egeplast's many years of project experience enable the company to provide high consulting and advisory capabilities for its customers, and to develop individual solutions tailor made to the needs of its customers and their markets.
Further information:
egeplast
Werner Strumann GmbH & Co. KG
Robert-Bosch-Straße. 7
D-48268 Greven, Germany
Tel: +49 2575 9710-0
Fax: +49 2575 9710-110
Email: info@egeplast.de
Web: www.egeplast.de