egeplast high-pressure pipe passes a high-pressure test of 50 bar on the test bed
The new egeplast HexelOne pipe makes possible both high-pressure applications as well as a reduced usage of material in familiar applications. The reason: As compared to the existing polyethylene pipes, it has about double the strength. The new plastic pipe is made from polyethylene only in a new manufacturing process - the HexelOne process. In this method, even residual pieces can be recycled, making it environment-friendly. This is an important advantage, especially in times of continuously increasing raw material costs.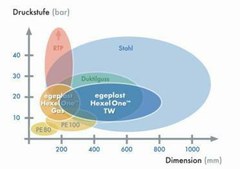 Thus, the use of HexelOne pipes is meaningful even in the "Standard Pressure" range in which PE pipes are usually used. Thus, for a water pipe at an operating pressure of 16 bar, the wall thickness of the pipe series SDR 11 is not necessary. A smaller wall thickness simplifies handling at the construction site, especially with large diameters. Applications in the "Raised Pressure" range, i.e. operating pressures above the ranges so far covered by the PE pipes, are new. High-pressure gas pipes up to 16 bar are a new application. Tests in practical conditions are going on and the first pilot projects have started under the watchful eyes of the TÜV A high-pressure variant for up to 50 bar has been successfully tested as a prototype in initial component tests. The market launch of HexelOne took place at the Future Symposium in August 2008 on the occasion of the 100-year jubilee of egeplast in Greven.