Efficient sewage sludge treatment
Mar 20, 2013
Sewage treatment
The international VDI conference "Sewage Sludge Treatment" on 18th and 19th June 2013 in Strasbourg, France covers how sewage sludge can be treated effectively and how energy and materials can be recovered for further use.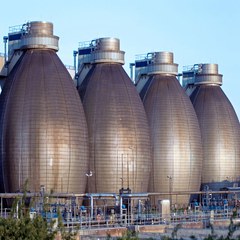 In the past sewage sludge was only a problematic waste product but today it is an energy carrier and a resource for phosphorus recovery. Various processes have been developed in the meantime for dewatering, conditioning and further processing of sewage sludge. But which method is the most efficient? What are the advantages and disadvantages of the various processes? These and other questions will be answered at the international VDI conference "Sewage Sludge Treatment" on 18th and 19th June 2013 in Strasbourg, France.
With Prof. Reiner Numrich of the University of Paderborn as technical chairman, experts will discuss not only methods of conditioning and preparing sewage sludge but also energy and material recovery. One highlight will be a visit to the two sewage-treatment plants in Gunstett and Brumath on the day before the conference, 17th June 2013.
At the start of the conference, experts from the European Environment Agency (EEA) and the European Federation for Agriculture Recycling (EFAR) will present an overview of the legal framework in Europe, the potential of sewage sludge and its use in agriculture.
Before untreated sludge can be recycled, plant operators must prepare it with the aid of conditioning and drying processes. Experts from companies including Adritz and Huber will present the various procedures used and introduce new developments in disintegration, two-step flocculation and also thermal, mechanical and solar drying.
In addition to its use in the agricultural sector in Europe, sewage sludge is also used energetically in (co-)incineration, pyrolysis and in anaerobic digestion to produce biogas. Practical examples will be provided by the operators of the sewage treatment plant in Lynetten as well as by plant engineering and construction experts from Bamag Environment. The conference will also cover material utilization in the form of phosphorus recovery from waste water, sludges and ash.
Contact
VDI Wissensforum GmbH
Jennifer Rittermeier
VDI-Platz 1
40468 Düsseldorf
Germany
Phone:
+49 (0) 211 / 62146-41
Fax:
+49 (0) 211 / 62146-54
E-Mail:
rittermeier@vdi.de
Internet:
To website