E world energy & water will take place in Essen on February 6 - 8, 2007
On February 6 ‑ 8, 2007, the seventh E‑world energy & water will open its doors at Messe Essen. Even while E‑world 2006 was still taking place, a large number of companies had already decided in favour of participating once again.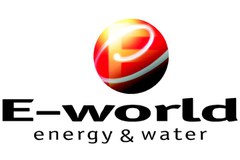 Thus, Fair Hall 3 is almost fully booked even now. Dr. Niels Ellwanger, the Chairman of ConEnergy AG, and Dr. Joachim Henneke, the Chairman and CEO of Messe Essen, who are the joint organisers of E‑world, are expecting a further rise in the numbers of exhibitors: "The energy and water sectors are growth markets; there is an enormous need for information. For this reason, ever more significance is also being attached to E‑world as the leading European fair for the energy and water industries."
The partner country of E‑world 2007 will be the Kingdom of the Netherlands to which particular main focal points in the fair and in the congress will be devoted. In addition to large exhibitors which (for example, like Nuon, Essent, GEN Group, KEMA Nederland and Shell Energy Europe) have already used E‑world for presentation purposes several times, additional companies are to be won over as exhibitors.
A cooperative booth will give smaller and medium-sized enterprises from the Netherlands the possibility of a concentrated appearance. Dutch speakers and presenters will be incorporated into the congress; special aspects of the Dutch energy industry will be examined.
E‑world energy & water, the leading international fair for the energy and water industries, is a joint venture of ConEnergy AG, Essen, and Messe Essen GmbH.
In 2006, 12,600 people visited the 413 exhibitors in total from 15 countries. Interest centred on the fields not only of energy trading, marketing and sales, information technology and generation but also of plant and power station engineering and research. The E‑world congress which will take place in parallel will be one of the largest in Germany with around 2,500 participants.
Further information:
http://www.e‑world‑2007.com
Contact for Inquiries:
MESSE ESSEN GmbH
Gabriele von Graes
Press Officer
Norbertstraße/Messehaus Ost
45131 Essen
Telephone: +49 (0)20 7244 246
Fax: +49 (0)201 7244 249
e‑mail: gabriele.vongraes@messe-essen.de