Dr.-Ing. E.h. Martin Herrenknecht receives the ITA Lifetime Achievement Award in Singapore
Dr.-Ing. E.h. Martin Herrenknecht accepted the "ITA Lifetime Achievement Award" in Singapore on November 11, 2016. With this award the International Tunnelling and Underground Space Association (ITA) is honoring the life of the engineer and entrepreneur from Schwanau.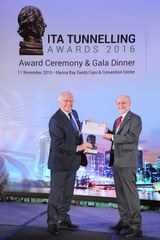 "Singlemindedly tackling and realizing exciting and ambitious tunnelling projects together with professional and competent partners, that is my passion. To receive the ITA Lifetime Achievement Award for that is a special honor. I would like to share that honor with my excellent engineers and employees as well as our customers," said Dr.-Ing. E.h. Martin Herrenknecht at the official award ceremony in Singapore before tunnelling experts from around the world.
Together with his engineers and in partnership with international customers, for decades the pioneer entrepreneur Dr.-Ing. E.h. Martin Herrenknecht has been innovating tunnelling technology, which over the past 20 years in particular has dealt with unprecedented challenges underground and repeatedly pushed the boundaries of feasibility in mechanized tunnelling. Prime examples of this are epoch-making projects such as the 2x 57 kilometer long Gotthard Base Tunnel in Switzerland opened this summer, the Eurasia Tunnel – the road tunnel under the Bosphorus nearing completion – as well as the metro network under Doha with 111 kilometers of ultra-modern new tunnels completed in record time.
In an entrepreneurial career in global tunnelling spanning more than 40 years, Dr.-Ing. E.h. Martin Herrenknecht has received a wide variety of accolades for his achievements, including the Cross of Merit 1st Class of the Federal Republic of Germany. Renowned technical universities have awarded him an honorary doctorate or appointed him Honorary Senator.
On December 13, 2016 at the Academy of Sciences in Berlin the engineer and entrepreneur Dr.-Ing. E.h. Martin Herrenknecht was the recipient of a particularly exceptional award: he will be presented with the Werner von Siemens Ring, which is the highest technical engineering award in Germany and has only been awarded to 36 people since 1916.
Contact
Herrenknecht AG
Achim Kühn
Schlehenweg 2
77963 Schwanau
Germany
Phone:
+49 (0) 7824 302-5400
Fax:
+49 (0) 7824 302-4730
E-Mail:
pr@herrenknecht.de
Internet:
To website