Double Sewer Rehabilitation Award for Lanes Group at UKSTT Awards
Following last year's win in the industry Oscars, the Lanes Group has triumphed again in the United Kingdom Society for Trenchless Technology's (UKSTT) 2010 awards - this time with not just one, but two Claret jugs to add to its trophy cabinet.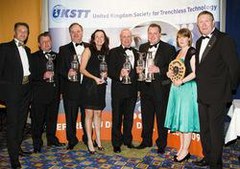 At the dinner in spring, a doubly delighted Andy Brierley, MD of Lanes' reline division, picked up the awards for two sewer rehabilitation schemes. The first win was for a tricky riverside project in the 'small scheme' section - which the company also won last year - whilst a high profile operation entitled 'Keeping the City flowing' took first place in the 'new installation/small project' category.
A concerted planning effort was required for the riverside sewer relining project at Middlebrook near Bolton. Yet, despite the many obstacles - having to lift plant and materials across the river by crane, setting up a temporary cycle path, footpath and bridge, proximity to the railway line, overhead clearance restrictions and the possible presence of the toxic plant Giant Hogweed - Lanes completed within the 7-day strict timeframe.
The second trophy was for the rehabilitation of a Victorian brick-built sewer in Blackburn, with minimal disruption to the town centre's busy shopping area. Thanks to a carefully planned programme of communications and effective traffic management there was not a single complaint from the town's stakeholders or the public, and, the scheme was completed two full days ahead of schedule.
Andy was overjoyed to have notched up two industry Oscars in the face of such impressive competition: "We are incredibly proud of our technical ability and our use of technology, but both of these projects show that we also have all the other skills necessary to make schemes work, effectively, efficiently, on time and on budget - to everyone's satisfaction.
"The UKSTT recognition is a tremendous reward for the efforts of the Lanes Group and its dedicated reline teams." Colin Tickle, chairman of UKSTT, praised the quality of entrants: "This year again we have received more award entries than ever before which shows that even in these economically challenging times, our members continue to be not just active, but truly innovative.
"Lanes and the other 2010 winners deserve real credit for their achievements." The Lanes Group plc has 21 depots across the UK. Group companies include Lanes for Drains, the UK's largest independent drainage specialist – with services including drain unblocking; Lanes Sewer Renovation; Lanes Engineering and Construction; Active Hygiene Services and Active Pest Control. The Group has over 800 staff and a £70 million turnover.
Contact:
Lanes for Drains
Michelle Ringland
No. 17 Parkside Lane
Parkside Industrial Estate
PH.: 0113 385 8400
FAX: 0113 385 8401
E-Mail: michelle.ringland@lanesfordrains.co.uk
Internet: www.lanesfordrains.co.uk