Double Celebration at the HOBAS TechCenter: Recertification to ISO/IEC 17025 and 5th Anniversary
Since February 2013, the HOBAS TechCenter in Wietersdorf, Austria, is a state-approved, independent testing facility for GRP pipe systems. The laboratory has now been put through its paces once again in order to re-confirm what had previously been accredited. And that's not all: The TechCenter also celebrated its fifth anniversary recently. The top quality HOBAS Research and Development is ready for many more successful years to come.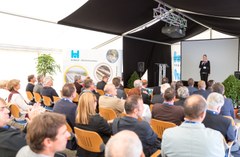 "The testing facility provides a very high standard of competence with regard to the production and testing of GRP pipes as well as sophisticated, comprehensive testing equipment. The testing personnel has specific skills and profound knowledge in the realization of all tests.The Quality Management System is very well implemented both in practice and electronically. The random inspection for the recording and documentation of measurement uncertainties showed an impressive report of outstanding quality for the estimation of measurement uncertainties."
A far from ordinary wording of a usually quite unemotional document: Thisexcerpt of the latest accreditation report makes it clear that the HOBAS TechCenter has again passed the audit to ISO/IEC 17025 with flying colors. With this re-certification, the Austrian Ministry of Economics confirmed once again that the HOBAS TechCenter meets all requirements to conduct officially recognized, independent tests on GRP pipe systems. It highlights not only the expertise and innovative capacity of the TechCenter team, but also proves that HOBAS makes high demands on new product developments and only markets reliably functioning innovations.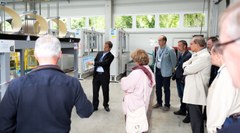 On approximately 1400 m² and by means of more than 30 different long-term and short-term tests, HOBAS Experts constantly test and monitor the performance of various HOBAS Products according to national and international standards at the HOBAS TechCenter. They examine the pipes' stiffness, their resistance against abrasion, corrosion, and chemicals, their performance under draw as well as under hydrostatic, cyclic, and negative internal pressure, the tightness of comprehensive pipe systems including joints, and the functionality of complex fittings.
Inaugurated in 2010, the HOBAS TechCenter counts among the world's most modern centers for research and development of GRP pipe systems and celebrated its fifth birthday recently. Many well-wishers from all around the world travelled to Wietersdorf on the occasion of this pleasing anniversary. They participated in exciting technical lectures, gained an insight into the innovative HOBAS Research and Development Activities, and enjoyed a pleasant social program with stunning views of Carinthia's magnific landscape
Contact
HOBAS Engineering GmbH
Jessica Maier
Pischeldorfer Strasse 128
9020 Klagenfurt
Austria
Phone:
+43 463 48 24 24 1065
E-Mail:
jessica.maier@hobas.com
Internet:
To website