Dominican Republic to improve access to drinking water for 329,000 people with IDB support
The Dominican Republic will improve water services for 329,000 inhabitants in the metropolitan area of Santiago de los Caballeros with a $25 million loan from the Inter-American Development Bank (IDB).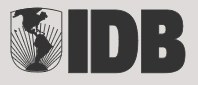 The project is expected to enable water service for at least 12 continuous hours per day for 211,000 people. Moreover, the project aims to improve the energy efficiency of water service operators and overall management of the service through investments in infrastructure and institutional strengthening support to CORAASAN (Water and Sewerage Corporation of Santiago).
The project is expected to decrease both losses of water delivered to the system and energy costs."Through this project, the Bank will support the Dominican Republic to increase the quality and continuity of drinking water in urban and suburban areas, thereby improving operational efficiency and service," said Javier Grau Benaiges, IDB project team leader.
Project components include implementing better pumping systems, network sectorization, pipe replacement, improved feedback systems, and support to service governance with corporate governance programs and information systems, among others.
In recent years the continuity of potable water supply services in Santiago has been affected by strong population growth in peri-urban areas, particularly in the areas of higher elevation, due to, among other factors, increased immigration from other areas of the country.
The loan is for 25 years, with a grace period of 5.5 years and an interest rate based on LIBOR.
Contact
Inter-American Development Bank
Anamaria Nuñez
1300 New York Avenue
20577 Washington, DC
United States
Phone:
+1 (202) 623-1531
Fax:
+1 (202) 623-3096
E-Mail:
anan@iadb.org
Internet:
To website