Ditch Witch® Walk-Behind Trenchers Deliver Superior Return On Investment
The Charles Machine Works (CMW), Inc., manufacturer of Ditch Witch® underground construction equipment, has introduced a new line of compact and powerful walk-behind trenchers, each of which is designed and manufactured to provide an exceptional return on investment for small business owners, particularly equipment rental companies.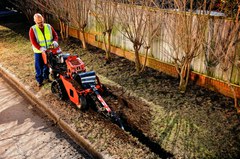 An illustration of the outstanding value of these trenchers—the RT12, RT16, RT20, and RT24—can be found in results recently published by the auction organizations Machinery Trader and Top Bid. Surveys conducted by these organizations found that among trenchers of 50 or less horsepower, winning bids for Ditch Witch trenchers averaged more than 30 percent higher than any other equipment brand.
Numerous design features give reason for Ditch Witch trenchers' durability and reputation for maximum performance with minimal downtime. Among them:
Hydraulic system, as opposed to belt-driven. Decades ago, the Ditch Witch organization made the decision to transition to longer-lasting, easier-to-use hydraulic systems on its trenchers. The entire line of Ditch Witch walk-behind trenchers incorporates a stacked, in-line hydraulic pump configuration that effectively eliminates vertical shafts and the use of belts and/or flywheel reduction systems, and ultimately reduces downtime.
Ease of operation. All Ditch Witch walk-behind trenchers have fully hydrostatic ground drives, with simple-to-use, hydraulic, skid-steer-style steering. Even novice operators can quickly understand the hand controls—one hand to mobile, two hands to trench—so there's less operator training necessary, and less operator fatigue.
Ditch Witch walk-behinds feature a solid, adjustable trail wheel that helps keep the unit stable and reduces breakover when loading, unloading, and traveling over curbs and other uneven terrain. Also, to keep the trencher boom in the ground during operation and/or maintain down pressure when placing the boom in the ground, the trail wheel gives the machine another point of leverage besides the track undercarriage. The trail wheel is one of several unique features that distinguish the performance of Ditch Witch walk-behind trenchers.
High-quality OEM products. From the digging teeth to the heavy-duty steel frame, the Ditch Witch organization designs and manufactures virtually every component of its trenchers and other equipment lines at its 30,000-square-foot manufacturing facility in Perry, Okla. What components the company must outsource are selected for their reputation for long-lasting performance, such as the 12-, 20-, and 24-horsepower Honda® engines that power the Ditch Witch RT12, RT20, and RT24, respectively. The RT16 is equipped with a Vanguard® Briggs & Stratton™ engine that performs as well as, or better than, other engines in the 16-horsepower class.
To keep the engine operating at maximum capacity even in the hottest conditions, Ditch Witch walk-behind trenchers come standard with a cooling system that is superior to that of any competitor.
Options that enhance value. With every new walk-behind trencher, the Ditch Witch organization offers a choice of high-flotation tires or a heavy-duty DuraTrak™ track system, which provides exceptional traction and stability over rough and uneven terrain.
The Ditch Witch organization designs and manufactures every single component of its exceptionally long-lasting digging systems, and offers a wide variety of digging chains for optimal performance in all soil conditions. Recently the company began offering the choice of the DuraTooth™ for its walk-behind trenchers. The Ditch Witch DuraTooth is manufactured with up to 35 percent more tungsten carbide than any competitor's digging tooth. It is strategically applied to the surface, in the base metal, and in the weld to make the DuraTooth the longest-lasting tooth in the industry—next to the DuraTooth C2X™, that is, which is designed for larger-horsepower trenchers.
Long-lasting tracks and digging systems are among the many options that ultimately translate into less downtime and less expense on wear parts, increasing the overall value of Ditch Witch walk-behind trenchers.
Standard features and support. Outboard bearing supports protect the hardest-working portion of a trencher. These supports come standard with Ditch Witch walk-behind trenchers, while other trencher manufacturers offer them as optional equipment.
Also standard with every Ditch Witch machine is a one-of-a-kind Ditch Witch dealership network. There are more than 115 Ditch Witch dealerships across the United States and Canada dedicated exclusively to sales, support, and service of Ditch Witch equipment.
Contact
The Charles Machine Works, Inc.
1959 W. Fir St.
73077 Perry, OK
United States
Phone:
(+1) 800-654-6481
Fax:
(+1) 580-336-3458
Internet:
To website