Ditch Witch Organization unveils 300-HP Rock trencher
PERRY, Okla.— The Ditch Witch ® organization announces the release of a 300-horsepower rock trencher: the heavy-duty HT300. Capable of trenching up to ten feet (3.1 m) deep and 36 inches (914 mm) wide in the most extreme jobsite conditions, the steel-tracked HT300 features a sturdy undercarriage designed to withstand the rigors of rock-laden jobsites, and trencher stabilizers that automatically adjust to terrain changes to isolate vibration in rock and other harsh conditions.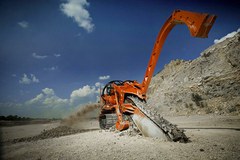 Protecting the operator from excessive noise and vibration is a fully enclosed cab with climate control, a standard feature of the HT300. Inside the cab are easy-to-use controls designed for optimal productivity and reliability in harsh conditions. As soil conditions change, the HT300's cruisecontrol system automatically adjusts the ground speed.
The HT300 features an exclusive flywheel gearbox that delivers maximum power to the trenching attachment on demand while minimizing shock to the hydraulic system. Another unique feature is a patented bit block digging system that allows the operator to customize the digging tooth pattern to best fit the application. The HT300 also features a conveyor that effectively deposits spoils on either side of the trench.
The HT300 is designed for the most challenging jobsite conditions, and the Ditch Witch organization guarantees the machine's forged, heat-treated, high-alloy steel headshaft for life.
The Ditch Witch organization specializes in the design and manufacture of high-quality underground construction equipment. The company is a one-stop source for trenchers, vibratory plows, pneumatic piercing tools, backhoes, electronic guidance and locating systems, horizontal directional drilling systems, drill pipe, downhole tools, vacuum excavation systems, pipe bursting systems, excavator-tool carriers, mini skid steers, compact utility attachments, pipe bursting systems, and the Zahn® family of power utility equipment.
All of these products are recognized around the world for their advanced design, rugged construction, long-term durability, ease of use, and reliability. This product line represents the most complete range of equipment for installing utilities underground and performing a myriad of landscaping tasks.
The Ditch Witch name is one you can trust for your equipment and financial needs. Ditch Witch Financial Services (DWFS) is a full-service provider, offering a wide variety of finance and lease options to meet your individual requirements.
Contact:
Ditch Witch Organization
Jeri Briegge
1959 W. Fir Ave.
P.O. Box 66
Perry, OK 73077-0066
PH.: 800-654-6481 x3392
E-Mail: jbriegge@ditchwitch.com
Internet: www.ditchwitch.com