Ditch Witch drill pipe offers unique advantages
The Ditch Witch® organization manufactures one of the most extensive selections of horizontal directional drilling (HDD) equipment in the underground construction industry, from the small and maneuverable JT520 to the powerful, long-range JT8020. They are the only equipment manufacturer that also produces machines used to create the underground bores through which utility pipe is pulled.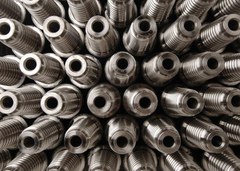 "Being a manufacturer of HDD machines, we know the demands placed on drill pipe, the careful balance of strength and flexibility required to ensure maximum performance of the drill and the drill string," says Adam Hall, design engineer for the Ditch Witch organization. "Producing long-lasting drill pipe begins with the highest-quality steel and involves a precise, time-tested series of steps." Among these steps is a unique welding technique that does not produce stress concentration points common to other manufacturers' pipe. After welding, each pipe is inspected, and a piece of pipe from each batch is sectioned to ensure weld quality and integrity.
"We expect a lot from our drill pipe, so we put a lot into it," says Hall.
Ditch Witch drill pipe is considered by many to be the most durable, dependable and cost-effective pipe ever made for HDD applications. Designed to be compatible with most Ditch Witch HDD models, Ditch Witch Power Pipe™ is made with a patented process using high-strength, low-alloy steel tubing that balances stiffness and flexibility, providing sufficient rigidity to maintain thrust during changes in direction. The pin and box are made from a different, extra-tough alloy pressed into and welded to the expanded ends of the tubing. "Our unique manufacturing process produces the straightest pipe in the business," says Hall. "Power Pipe's expanded, exceptionally strong ends are formed without the heat of forging process, leaving the integrity of the pipe intact and no strength reduction or the heat-affected zones."
Ditch Witch Power Pipe is also available with the company's exclusive Fluid Miser II
®
lining. With Fluid Miser II inside each joint of pipe, drilling fluid volume is reduced by as much as 60 percent, allowing the drill string to pressure up faster and clean up quicker, which saves time and money. Fluid Miser II lining also minimizes internal rust and reduces spillage during pipe breakout.
Ditch Witch All Terrain (AT) pipe is manufactured exclusively for the Ditch Witch All Terrain machines. The patented shaft-within-a-pipe design of All Terrain pipe features a strong drive rod that turns inside an outer pipe. This enables AT systems to transfer power to the cutting head more efficiently than any other system, and outperform all other rock-drilling systems in their horsepower class.
Designed for use with the Ditch Witch JT520, JT8020, and JT4020 AT HDD machines, UFE (upset forged end) drill pipe features an "upset" or thickened shaft wall at each end. The tubing ends of UFE pipe are subjected to high compression and heat in a forging die, causing the tube wall to increase and the tube outside diameter at the end to expand. Unlike one-piece forged pipe, Ditch Witch UFE pipe is a composite design with tubing and high-strength alloy ends, making the pipe and tool joints stronger and more resistant to abrasion. After forging, all Ditch Witch UFE pipes are fully heat-treated to eliminate any potential heat-affected zones.
The Ditch Witch organization specializes in the design and manufacture of high-quality underground construction equipment. The company is a one-stop source for trenchers, vibratory plows, pneumatic piercing tools, backhoes, electronic guidance and locating tools, horizontal directional drilling systems, drill pipe, downhole tools, vacuum excavation systems, excavator-tool carriers, mini skid steers and pipe bursting equipment.
All of these products are recognized around the world for their advanced design, rugged construction, long-term durability, ease of use, and reliability. This product line represents the most complete range of equipment for installing utilities underground.
The Ditch Witch name is one you can trust for your equipment and financial needs. Ditch Witch Financial Services (DWFS) is a full-service provider, offering a wide variety of finance and lease options to meet your individual requirements.
Contact:
The Charles Machine Works, Inc.
Manufacturer of Ditch Witch and Subsite Electronic Products
Jeri Briegge
Perry, OK 73077 (USA)
Phone: +1 800-654-6481
Fax: +1 580-572-5823
Web: www.ditchwitch.com
E-Mail: jbriegge@ditchwitch.com