Ditch Witch Aggressive Talon Rock Bit redesigned for greater durability
The Ditch Witch organization has re-released its popular Aggressive Talon Rock Bit with a design modification that will significantly improve performance.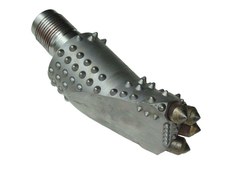 The Aggressive Talon Rock Bit is a multi-use bit manufactured for horizontal directional drilling (HDD) applications in a variety of soil conditions, including sandstone, shale, and chunk rock. The bit's original tapered head beacon housing connection has been replaced with a thread-on shank that will provide even greater reliability and durability in tough digging conditions.
The Aggressive Talon Rock Bit features four replaceable carbide-tipped cutting teeth in front of the tool that enable it to operate more smoothly with less drill pipe chatter than other multi-use bits. The angle of the cutting teeth enables it to more effectively carve into rock. Carbide buttons in the abrasion-resistant, steel-bit body reduce wear when working in tough conditions.
Compatible with the Ditch Witch JT2720, JT4020, and the new JT3020 HDD units, the Aggressive Talon Rock Bit soon will be available for use with the rest of the company's HDD line.
The Ditch Witch organization specializes in the design and manufacture of high-quality underground construction equipment. The company is a one-stop source for trenchers, vibratory plows, pneumatic piercing tools, backhoes, electronic guidance and locating tools, horizontal directional drilling systems, drill pipe, downhole tools, vacuum excavation systems, excavator-tool carriers, mini skid steers and pipe bursting.
All of these products are recognized around the world for their advanced design, rugged construction, long-term durability, ease of use, and reliability. This product line represents the most complete range of equipment for installing utilities underground.
Further information:
The Charles Machine Works, Inc
Manufacturer of Ditch Witch and Subsite Electronic Products
Jeri Briegge
Tel: +1 800 654 6481
Email: jbriegge@ditchwitch.com
Web: www.ditchwitch.com