Ditch Witch 250R/T locating system released
The Ditch Witch® organization, the industry leader in the design and manufacture of underground construction equipment, announces the release of its new 250R/T locating system. The company says the 250R/T is one of the most efficient and cost-effective methods for locating and avoiding buried telephone, CATV, power, gas, and water lines. Consisting of a 250T transmitter and 250R receiver, this simple, lightweight system features intuitive controls, an easy-to-read display, and depth estimation up to 15 feet (4.6 m).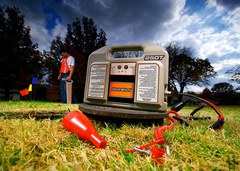 The dynamic range of the 250R/T is the best in its class, so it can locate even when signals are either very weak or very strong. Tones are derived from the actual signals radiating from pipes or cables, making it easy for even novice users to distinguish the signal from background noise. The display is backlit and reinforced with a scratch-resistant coating for optimal visibility day and night.
The 250T is ten times more powerful than other transmitters in its class. It can apply 33-kHz signals via direct connect, induction clamp, or other optional accessories. Even with its greater power, the 250R/T has two-thirds fewer components than similar models, meaning fewer chances of mechanical or electrical interruption. Further minimizing downtime is the system's rugged design and moisture-resistant cases that stand up to long-term use and tough weather conditions.
The Ditch Witch organization specializes in the design and manufacture of high-quality underground construction equipment. The company is a one-stop source for trenchers, vibratory plows, pneumatic piercing tools, backhoes, electronic guidance and locating tools, horizontal directional drilling systems, drill pipe, downhole tools, vacuum excavation systems, excavator-tool carriers, mini skid steers, and Zahn family of trenchers.
All of these products are recognized around the world for their advanced design, rugged construction, long-term durability, ease of use, and reliability. This product line represents the most complete range of equipment for installing utilities underground.
The Ditch Witch name is one you can trust for your equipment and financial needs. Ditch Witch Financial Services (DWFS) is a full-service provider, offering a wide variety of finance and lease options to meet your individual requirements.
For more information about the new 250R/T, please call 800-654-6481 or visit
www.ditchwitch.com
.
Contact:
The Charles Machine Works, Inc.
Manufacturer of Ditch Witch and Subsite Electronic Products
P.O. Box 66
Perry, OK  73077
USA
Tel: +1 580-336-4402
Fax: +1 580-572-5823
Web: www.ditchwitch.com
E-mail: info@ditchwitch.com