Deep drilling rig #4: Contract "signed and sealed"
HERRENKNECHT VERTICAL GmbH sold its fourth deep drilling rig: Future owner is STREIF Baulogistik, a company of the HOCHTIEF Group. With the rig, STREIF Baulogistik will complete its range of specialized equipment with another highlight. Lessee of the deep drilling rig is Hochtief Construction: The rig Terra Invader 350 is scheduled to start tackling its mission, the later development of geothermal energy in greater Munich, at the beginning of 2008.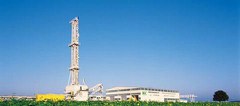 With the contract for the deep drilling rig Terra Invader 350, STREIF Baulogistik and HERRENKNECHT VERTICAL GmbH set a new standard in the field of renewable energy, more precisely: in the field of deep geothermal drilling, in Germany. Founded in spring 2005, the company of the HERRENKNECHT Group has specialized in developing, manufacturing and selling deep drilling rigs and auxiliary equipment for geothermal, oil and gas exploration. In 2006, HERRENKNECHT VERTICAL GmbH specially designed and manufactured a new rig type for wells down to depths of 6,000 m. Various technical innovations, e.g. derived from offshore drilling technology, allow to considerably improve major aspects such as work safety through largely automated processes. Another example regarding the aspect of environmental protection: Sophisticated noise protection systems reduce noise emissions during operations in the immediate proximity of residential areas in such a way that the Terra Invader 350 is considered to be the "most silent" rig available in the market.
Weitere Informationen:
HERRENKNECHT VERTICAL GmbH
Im Heidenwinkel 5
D-77963 Schwanau
Email: info@vertical-herrenknecht.de
Tel.: +49 7824 302 130
Fax: +49 7824 302 133
Web: http://www.vertical-herrenknecht.de