Decisive advantages with high shot weights
Sewer manhole systems manufactured on large Ettlinger machines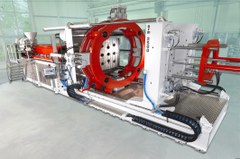 An injection molding machine for large moldings was recently shipped by Ettlinger to a leading European plastics converter: an srm 2500/120 with a clamping force of 25,000 kN and a maximum shot volume of 120 liters. The machine is used to manufacture components for accessible sewer manholes up to DN 1000 (diameter: 1000 mm) from polypropylene (PP).
The manholes have a modular structure comprised of an entrance cone, shaft ring, and shaft bottom, frequently adding up to an overall height of several meters. The shaft bottom, which was molded during the machine acceptance test weighed 62 kg by itself. The manholes enable reliable disposal of waste water in urban areas and are constructed in several different sizes. The newly commissioned srm 2500 is the second injection molding machine purchased by this client to expand the customer's production capacity for sewer manholes. Experience with the SRM machine over the past few year(s) has been very positive therefore the client chose Ettlinger SRM for their added capacity needs.
Sewer systems not only have to comply with extremely strict safety requirements; they must also be built to last. Compared to concrete – the material traditionally used to make manholes – polypropylene is far more resistant to aggressive media, both acid and alkali, as well as being non-corroding. Even hot sewage up to 60°C (or 90°C for short periods) is not a problem. At the same time, expert assessments have attested to a useful life of up to a hundred years for PP sewer systems.
A reliable component production process is vital to ensure that these positive characteristics are repeated every single time. The manufacturer of the PP sewer manholes trusts in Ettlinger's proven machinery because it unites all relevant technological and commercial benefits very effectively. The srm large machine series covers all clamping forces from 2000 to 30,000 kN as well as shot volumes from 5000 to 160,000 cm³, and is designed for moldings weighing anything upward of 1000 g with 2 mm or thicker walls. Pallets, fittings in a variety of shapes and sizes, and manhole or wastewater systems, each tailored to a particular application, are just some of the typical applications.
Large machine concept with technological and commercial benefits
The two-stage injection unit is common to all injection molding machines in the Ettlinger srm series: the material is plasticized by an extrusion unit while a plunger unit injects the melt into the mold. Both the plasticating extruder and the injection unit operate cyclically. The extruded melt is conveyed into a cylindrical accumulator, from where it is forced into the mold cavity by the injection plunger with a pressure and velocity controlled forward movement.
Because of this principle, the injection system is capable of processing large shot volumes with a high melt quality, yet the clamping system manages with less clamping force. This two-stage plasticization and injection system also provides significant benefits with regard to energy efficiency. The units can be designed smaller, which means they can make do with smaller drives: their power consumption is up to 60% lower as a result compared to conventional injection molding machines with similar production parameters. The fact that the hydraulic pump is switched to standby during the cooling phase and only soft-starts again when the molding is completely cold is another energy asset.
The plasticization and injection system is suitable for processing a wide range of materials from virgin through regrind to recycled plastic. If the material still contains particulate impurities, a melt filter – such as a high performance filter in the Ettlinger ERF series – can be installed in-line between the extruder and the accumulator of the injection unit without any complications. Longstanding experience with the srm series has shown over and over that the mold technology also benefits from the lower clamping force.
"Economical molds with a combination of steel and aluminum can often be used on our machines, even with the very high shot weights these are important for these sewer manhole systems. In addition, the higher thermal conductivity of aluminum means better heat dissipation in the mold, so that the cycle times are shorter and the equipment is even more efficient", reports Karsten Bräunig, Ettlinger's Manager Sales, who goes on to mention another of the system's great advantages: the frame for holding core pullers on the fixed platen. "The core pullers specific to each molding can be positioned on the platen very flexibly, and they're now an integral part of the machine. Separate pullers are no longer required in the mold itself and the molds are much cheaper to produce, especially if there are a lot of different variants", Bräunig explains.
The manufacturer of the PP sewer manholes was also swayed by several other points in the srm series' favor: since the compact plasticization unit and short clamping system are combined in a single twin-platen machine, the overall length is up to 30% less than for a conventional injection molding machine with the same shot weight. Valuable production space is saved. At the same time, the large opening space with no tie bars provides optimal accessibility from the side for removing moldings or changing the mold. The manhole components are large and heavy, which is why an industrial robot is needed to remove them in order to guarantee short and efficient cycles.
Contact
Ettlinger Kunststoffmaschinen GmbH
Karsten Bräunig
Messerschmittring 49
86343 Königsbrunn
Germany
Phone:
+49 (0)8231 / 34908 - 0
Fax:
+49 (0)8231 / 34908 - 28
E-Mail:
karsten.braeunig@ettlinger.com
Internet:
To website