Cooperation Agreement between RELINEEUROPE AG and Ulrich Rotte Anlagenbau und Fördertechnik GmbH
RELINEEUROPE AG of Rohrbach/Palatinate and Ulrich Rotte Anlagenbau und Fördertechnik GmbH of Salzkotten have agreed to cooperate in the development, manufacture, systems service and sales of a light-curing top-hat profile technology. This cooperation encompasses systems engineering, consumables (long and short top-hat profiles), as well as the required application services.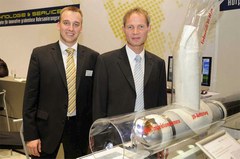 The connection of hose liners to existing building laterals is a key element in the successful execution of trenchless sewer rehabilitation using this method. The integration of branches is also the link to the rehabilitation of building laterals, which might also be required. The quality requirements for such a connection are that it must be made both interlocking and frictional, as well as leak-tight.
In addition to grouting, top-hat profile technology plays an important role in the connection of branch sewers. Quality materials and innovative systems technologies have contributed significantly to the success of top-hat profile methods in recent years. However, this area of trenchless rehabilitation still has some potential for improvement (see IKT product test) to achieve the required quality characteristics.
With their UV light-curing technology for top-hat profiles, RELINEEUROPE and Rotte are planning to utilize the benefits of this curing technology for the installation of top-hat profiles. This will make it possible to prepare the top-hat profile materials for installation at the factory. The impregnation of top-hat profiles and handling of resin components at the construction site will no longer be required.
Another new feature is the targeted installation depth: The HSR top-hat profile technology is intended to achieve installation depths of up to 2' (60 cm). The goal is to connect the hose liner to a point beyond the first pipe collar. With UV light curing at these installation depths, special UV light-source designs are required to evenly light the entire length. A special LED satellite light source makes it possible to evenly cure top-hat profiles with installation depths of up to 2' (60 cm) – even angled – without difficulty.
The curing process is controlled via an operating panel and documented completely, providing for a seamless quality control that includes monitoring with a camera. The first prototype rehabilitation system has already been built and is currently being field-tested at various construction sites. A number of suitability tests are scheduled for the coming months.
Ulrich Rotte Anlagenbau und Fördertechnik GmbH was founded in 1994 and currently has 75 employees. In the field of systems engineering, the company designs and builds custom production and conveyor systems for customers in the automotive and solar-panel industries worldwide, among others. One of the company's key assets is its great depth of production, ranging from the initial design and development to the commissioning of the final system at the customer's facilities.
The Rotte company has been engaged in the development of sewer technologies since 2008. In addition to the HSR (its top-hat profile rehabilitation robot), the company also offers a system for the 3D inspection of manholes, as well as other documentation and software solutions for sewer applications.
Contact:
RELINEEUROPE AG
Benedikt Stentrup
Managing director
Große Ahlmühle 31
76865 Rohrbach, Germany
PH: +49-(0)6349-93934-0
Fax: +49-(0)6349-93934-101
E-Mail: benedikt.stentrup@relineeurope.com
Internet: www.relineeurope.com

Ulrich Rotte Anlagenbau und Fördertechnik GmbH
Dr. Franz-Barthold Gockel
Managing director
Brockensklee 32
33154 Salzkotten, Germany
PH: +49-(0)5258/9789-0
Fax: +49-(0)5258/9789-3
E-Mail: gockel@ulrich-rotte.de
Internet: www.ulrich-rotte.de