Concrete Pipe Lifter operating at £431 million flagship Tram project in England
A-Plant - one of the UK's largest equipment rental companies - is the fi rst UK hire company to have purchased the Concrete pipe lifter RVD-4-ECO-4-F, designed for the safe unloading and laying of concrete pipes in Trenches on Construction sites.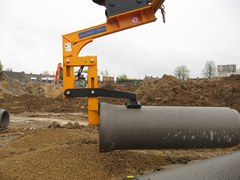 A-Plant's Business Development Manager for lifting and handling Matthew Hood said, "The reason for the purchase of the pipe lifter was because of its safe method of unloading and laying pipes compared to the use of slings. The product has been well received by customers and has been used during the infrastructure stages on the £431 million fl agship Tram project in Nottingham, delivered by Vinci Construction."
The RVD-4-ECO-F is developed by Probst GmbH, the worldwide market leader of handling and laying systems, headquartered in Germany. The Concrete pipe lifter saves 50% time when lifting concrete pipes compared to previous methods, reduce manual handling and lower the risk of accidents. Not only for pipe lifting but effi ciency can be made when unloading or loading reinforced concrete pipes on tracks at Construction sites. There is no need for using slings or chains.
The universal installation device uses a mechanical clamping mechanism to prevent slippage and to facilitate accurate placement of the pipe. The attachment fi ts to excavators via an integral universal fl ange plate, using a quick-hitch coupling. It can be attached to any lifting device with a quick change facility, capable of lifting 1 pipe up to 4,000kg and with diameters of between 300mm to 1,200mm. The Concrete Pipe Lifter RVD-4-ECO-F has also been on hire to A-Plant customer BM King Groundworks Ltd whilst working on a housing development of 2, 3 & 4 Bedroom properties in Shillington, Bedfordshire.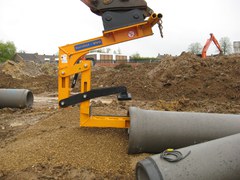 "The RVD-4-ECO-4-F is an impressive piece of equipment, it has been easy to use around the site due to the pipe lifter being on a quick hitch system which enabled the safe unloading and laying of concrete pipes compared to previous methods. What was a two week program to lay the pipes was cut down to one week as the pipe lifter speeded up the program in an effi cient and safe manner" commented Groundworks Pipe Layer, Andy Phelan from BM King Groundworks Ltd. He continued, "One of the main safety benefi ts is no operative is needed for pick-up and put down of pipes thus reducing potential injuries which is one of the biggest issue when laying heavy pipe." 
Contact
Probst Greiftechnik Verlegesysteme GmbH
Gottlieb-Daimler-Straße 6
71729 Erdmannhausen
Germany
Phone:
+49 (0) 7144-3309-0
Fax:
+49 (0) 7144-3309-50
E-Mail:
info@probst.eu
Internet:
To website