Comment on Ofwat's Time to Act, Together Strategy
Lila Thompson, chief executive, British Water has made the following statement on the release of Ofwat's strategy, Time to Act, Together.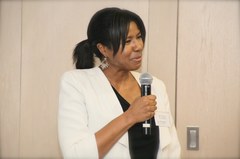 "We are pleased to see innovation and collaboration play key roles in Ofwat's new strategy. It is essential for water companies to work closely with the supply chain to deliver what customers expect.
"We agree there are untapped opportunities for the industry to work with the supply chain to adopt new practices and technologies to transform performance. There is a genuine desire among our members for closer collaboration across the sector and with other industries, and it is reassuring that Ofwat will be encouraging this.
"We would fully support any streamlined innovation processes and are looking forward to the results of Ofwat's consultation into the creation of a national water centre for excellence.
"To deal with the urgent challenges it is facing, the water industry must do things differently - we look forward to working with Ofwat and the rest of the sector in delivering the best outcomes for customers and making positive changes for future generations."
About British Water 
British Water is the lead representative and business development organisation for the United Kingdom water industry supply chain.