Combined Sewage Overflow (CSO) Pogues Run Consolidation Indianapolis Indiana USA
Last year Super Excavators Inc. contracted Lovat to design and custom manufacture a 4.2 meter (167") diameter mixed face Earth Pressure Balance Tunnel Boring Machine along with associated ancillary equipment, for use on the Combined Sewage Overflow (CSO) Pogues Run Consolidation Project in Indianapolis, Indiana, USA.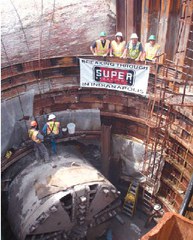 The TBM RME167SE was manufactured at the LOVAT plant in Canada and delivered to the site in Indianapolis in November 2005.
The mining in Indianapolis was started in early of December 2005. Ground conditions consisted of man-made fill composed of clays and mixed sands, as well as cohesive glacial till deposits, interbedded with sand and gravel outwash. Operating at pressure up to 4 bar (58psi), the first drive of 200 meters (620Ft) was finished by 22nd of March 2006. The second drive was launched at 21st of April and 310 meters (1,020Ft) distance was covered by the 15th of August 2006. The total length of the tunnel made was 510 meters (1,640Ft). The TBM installed a pre-fabricated 6-piece reinforced concrete segment lining. Each ring typically took 20 minutes to be installed. The best production achieved - 9 No. rings during a 10 hour shift.